Cottage gardens – they're common in Europe, but U.S. homeowners are beginning to take note of their appeal  as a lush and inviting landscaping scheme.  When it comes to having a MN cottage garden designed in your yard, you might be curious to know the different elements that are used to create the overall look.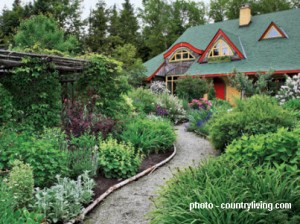 The Victorian times are when these cottage-themed gardens were the most popular. They seem to have sprouted up over the years in landscapes due to the lovely colors and brilliant look that they give. With this type of garden  design, you're able to enjoy both beautiful and useful plants that can be placed within it, giving you the best of both worlds.  Cottage gardens often incorporate cutting flowers, foliage plants, and medicinal or cooking herbs.
These gardens are usually done close to the home so the owner is able to look out the window to see how the garden is doing.   The proximity to the house also provides a beautiful view out your window.  Cottage gardens can house a wide assortment of plants and herbs, depending on the preference of the owner. Shrubs and smaller sized flowering trees can also be a part of this type of garden. The flowers that are used should be native to the area and seasonal such as perennials and annuals. The flowers and herbs are grouped very close together might seem like a messy idea, but this gives way to a beautiful look that you can only accomplish through this type of garden.
Add a small picket fence around your garden to protect it, but also to give it that older feel and look. Pathways to and from the garden are also a good addition to the beautiful area. Bird baths and feeders can bring colorful birds to the area where you're able to see them right from your window. They, too, can enjoy the garden that was put together in your backyard.
Even though a cottage garden can be lovely, it is not the only garden option that you can go with when it comes to working with us at Architectural Landscape Design. Call us today to find out more about what we can offer when it comes to the unique MN garden design that you want in your yard at 952-292-7717.