Looking for a little privacy for your yard?  The easiest way to get it is with the right fencing.  When it comes to putting up a fence, you might be thinking about skipping the hard work that comes along with a wooden fence and decide to go vinyl. You can get the look and feel that you would like without having to do a lot of work to get it. This might seem like the best way to go, the most easiest choice to make but make sure to consider both the good and bad that comes with having a vinyl fence around the home that you own.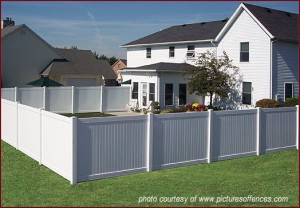 Vinyl Fencing: The Good Points

It looks great when it is installed and comes pre-made so you just have to put it up
Installation is easy and quick
There are many colors and designs to choose from
Gates can be chosen based on the fence that you chose to match it
Vinyl is able to last longer than a wooden fence and does not rot, crack or fade with the sun
It requires close to no maintenance, except for a hose-down every once in awhile
Many fences come with a lifetime replacement warranty in case natural damage was to occur to it
Keep out sound and high winds when you have a vinyl fence
Vinyl Fencing: The Bad Points

The cost is a lot higher than that of the other types of fencing that you can get such as cement, wood, rock or wire
Stone or rock fences are able to last longer than vinyl fences
Cracks and broken areas of the fence are more likely to happen in sunny areas due to the sun exposure
A vinyl fence will need two people and a couple of days to have put up
Repairing a vinyl fence can be tricky
Cement is used when installing the vinyl fence, and this takes time to dry; the posts are not able to be moved once this is done
Vinyl not a temporary fencing solution since it will have to remain where they are once it is put in
Vinyl fencing can be great for a lot of different reasons, so if you want a permanent, easy-to-install, low-maintenance, strong fence – it may be the way to go.
If installing a fence is more than you'd like to take on, speak with us at Architectural Landscape to find out more information about the beautiful fences that we are able to put up for you. Fencing comes in almost unlimited choices.  For some inspiration in a variety of fencing materials, check out our Pinterest Fantastic Fences board.  We are a licensed landscaping design and installation contractor, serving the entire Minneapolis MN metro area as well as outlying communities around the Twin Cities.  Call for a free consultation – 952.292.7717.