Are you thinking about starting a new outdoor lighting installation project?   Nothing shows off a home and yard better after dark than the right landscape lighting.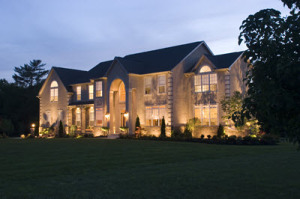 Perhaps you are thinking about creating a whole new outdoor lighting look for your house.  If that's the case, you have a very important decision to make – choosing to hire a professional landscape lighting contractor or doing it yourself.
Yes, you may save some money up front, but many times homeowners or do-it-yourself enthusiast tend to miscalculate how much effort is truly needed in order to complete the installation properly. Keep in mind that it is also unsafe to work with anything that is electric if you do not have the experience; doing so could lead to electrocution or even a fire.  On top of that, there are code issues to consider as well as possible inspections.
Professional outdoor lighting installation companies have the knowledge and experience that is needed in order to provide your house a custom lighting look that your friends will be envious of. 
These professional outdoor lighting contractors also have access to excellent products that are not offered in regular stores as well. 
Keep in mind that a lighting contractor will probably pay less for the same item as you will, so the savings might not be as much as you think.   
Certified landscape lighting installers are focused on the best design, structure, and cost for your outdoor lighting needs, whether it is for your deck,  patio, or throughout your whole yard.

A professional outdoor lighting contractor will make certain that the products used fit your budget as well as being durable, with the best interest of the homeowner in mind. It is very important that the products they install are long-lasting so that they will with stand the diverse types of weather conditions. The best style of outdoor options will merge in with your home, making your home seem to be more graceful in a natural way. Professionally-trained lighting installation companies not only offer superior products, they are also knowledgeable with installing, designing, and maintaining your outdoor lighting.
In the end, as you are considering the benefits of hiring a professional, do not forget about the time as well as the frustration that will be saved.
If it's time to light up the night in your yard, speak with us here at Architectural Landscape Design to have our outdoor lighting experts give you the information you need.  We are a licensed MN outdoor lighting contractor serving the Minneapolis metro area.