Hot weather has moved away and cooler weather is moving in, making it a perfect time got gathering with family and friends outdoors and making some memories.
Is your yard missing the right spot to do that in the fall?
No worries – you can offer your guests more by installing a new brick patio this spring!
Here at Architectural Landscaping Design we are experts in landscaping services of just about any type.  With our team of design professionals, we can work with you to get the planning done now and then come spring we can install a brick patio that would be perfect for your home. You can have a perfect place for hosting any gathering held outdoors in only a couple of short months from now by adding a brick patio that has been custom designed to fit your home and your yard.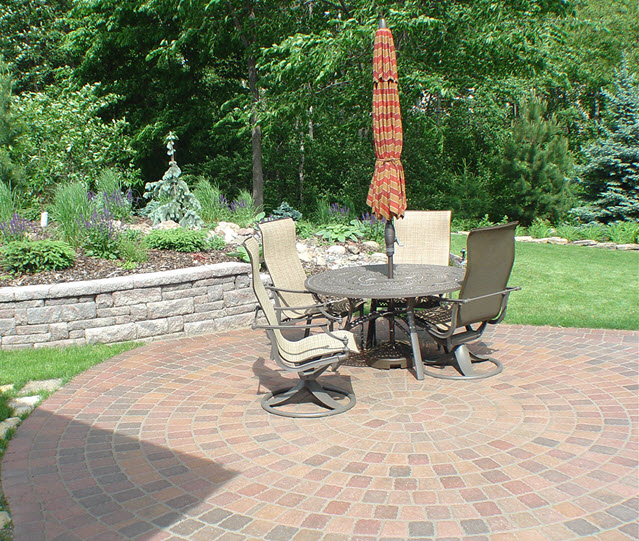 Design Now, Install Your Patio in the Spring
If you begin planning now, installation can begin as soon as spring comes and you will be ready to be the host with the most at your gatherings.
Are you thinking about adding a brick patio to your backyard? This is the perfect time.  The design and planning process can be done now, and when the last of the snow melts, your new brick patio can be set and ready for summertime parties!
If you own a swimming pool, a backyard brick patio is a way to complement your swimming pool while also giving your guests additional space for visiting and sitting. If you have been looking for an easy way for gathering people together, a backyard brick patio is an awesome way to do so.
Your new brick patio will likely increase your property value, as well. Outdoor entertainment areas are very popular and are features that can possibly add thousands to your home's resale value. If your patio is in a position where it is visible from the street, curb appeal would be another added benefit.
Having a brick patio installed in your backyard is an investment that you and your family will be able to enjoy for many years to come.
If you live in the Minneapolis area, you can take advantage of 2015 prices by scheduling a spring install this fall with the professionals at Architectural Landscape Design. It is the perfect time to get your brick patio planning finished for spring installation.
We are a licensed MN landscaping design and installation contractor based in the Minneapolis area, but we serve the entire state of Minnesota and western Wisconsin.