Feel like your backyard is missing that extra oomph you crave? These six simple ideas can help bring your backyard from dull to lively.
Light Up That Outdoor Living Space
Often times we neglect to give our outdoor spaces some light because, well, there is plenty of natural light from the sun. But what about after dark?
Make your space more functional during the night by adding landscape lighting to your garden or walkways. You can even hang some decorative lighting from a covered porch.
Add Movement to Your Yard

Be creative with this one. If you have a large tree in your backyard, you can easily make a hanging seat or bench. If not, you can add a porch swing, hammock, or hanging seat. Wind chimes can also work.  Adding movement to your outdoor living area adds visual appeal.
Revamp Your Old Storage Shed
Most people use their sheds for storage and clutter, but you do not have to!  'She sheds' (the female answer to the man cave') are very popular right now.  Maybe you would love an art studio, an outdoor read and relax nook, or a place for some of your kids' toys. Re-imagining how you use your shed helps bring your lifestyle to the outside of your home and not just the inside.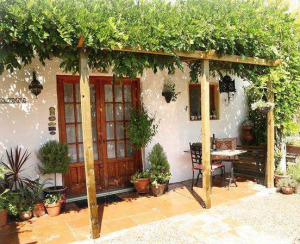 Make a Peaceful Area To Get Your Day Started
You can make your patio a place for you to go when you wake up, read the newspaper, get your coffee, and start your day off in a great mood. Adding patio furniture that is comfortable and well thought out will help accomplish this.  Other ideas are a vine-covered arbor complete with a padded bench, or swing hanging from a mini-pergola at the garden's edge.
Add a Rock Garden As a Focal Point
Too many backyard spaces are just plain green grass. Adding a rock garden will help break up the lawn, and you can even add bird baths, statutes, water fountains, and other ornaments to help grab attention.
Create an Intriguing Path
You can use a variety of materials to do this. From pavers to recycled bottles, creating a path from one point to another also helps open up the possibility of adding more elements to your backyard and gives it an overall sense of unity.  (Check out our Pinterest board, Walkway and Driveway Ideas, for some inspiration.)
There are many easy ways to revamp your backyard to make it a part of your home. These are only a few. You can also add local plants, whimsical items such as decorative planters to catch eyes, and you can even go as far as to setting up an outdoor movie theater for you and your family to enjoy.
Being creative does not have to stop at the back door of your home – bring your outdoor space to life and make it a part of your home.
If you're stuck because you need an outdoor space to work with, give us a call.  We specialize in custom designs for outdoor living areas.  Call today to arrange a free initial in-home design consultation.