Fall is often when homeowners around the Twin Cities are reevaluating their landscaping and thinking about making changes for next year.  Is your yard a little boring?  Are you wondering how to make your yard more attractive? If you're looking for a way to spice up your landscape or garden in the Minneapolis or St. Paul area, hardscaping can be a highly creative way to achieve this. With this post we'll help you master the basics of hardscaping, with an eye toward explaining the basics of it as well as breaking down the main elements involved in this style of landscape design. 
What Is Hardscaping?
Let's begin with a definition. Hardscapes are small structures or decorative items placed in a yard or other outdoor environment. They include sculptures, fountains, benches, bridges, stairs, and garden pavilions.   Hardscapes also include such things as patios, retaining walls, fences, and walkways.  Landscape lighting is also a hardscape feature.  A hardscape is basically any landscaping element that isn't a plant, grass, tree, or shrub – these living elements are referred to by landscape professionals as 'softscaping.'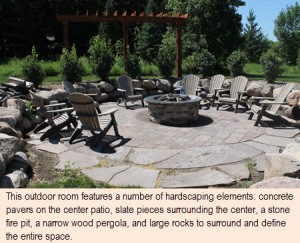 We'll now focus on various elements from which hardscaping may be made of.
Reinforced plastic: 

Using reinforced plastic is a great way to get an elegant look without spending much money. Flexibility is another great asset of this particular element. Because no foundation is needed, the sets can be altered by shifting the construction to another place.  Reinforced plastic can be manufactured to mimic many natural materials, allowing you to get the look of wood or stone at a lower cost and with ease of installation. 



Wood: 

The use of wood in a garden has a tendency to blend in very harmoniously. 

The look works well for decks, pergolas, gazebos, bridges, benches and sandboxes.  Wood timbers can also make good walkways, steps, or components of retaining walls.

Natural stone: 

Products devised of natural stone have a number of extraordinary advantages over wood or plastic against time and the weather. For this reason they are often worth the extra cost.




Concrete, brick, or similar material:  

Like reinforced plastic, concrete elements are quite inexpensive. It can be used for stairs, columns and fences and is well known for its durability. Perhaps its best feature is its ability to tolerate frost. The list of ways that concrete can adorn your garden is seemingly endless. Here's a previous post regarding the use of concrete pavers.
In addition to adding interest to your overall landscape look, hardscapes can also cut down on yard maintenance since they require little or no upkeep. 
At Architectural Landscape Design there are an infinite number of ways we can help Minneapolis and St. Paul homeowners achieve their landscaping visions and dreams. Get in touch today to discover how we can help you! 952-292-7717