New styles are emerging every day, and perhaps that's got you longing for a makeover on your yard.
Or maybe your home's landscaping has become overgrown. This can make your home look misplaced and outdated.
New Plants In Your Yard Can Change Everything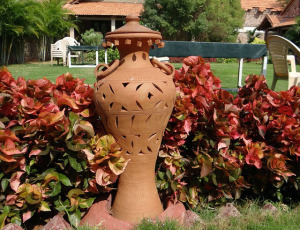 Give your landscape a new look by jazzing it up with some new landscaping plants. Doing this will boost your home's appearance and make your space outdoors feel welcoming.  It can be as simple as replacing some of your plants, or maybe even requesting a landscape designer to plan an entire new look, complete with new garden beds and shrubs.
You may feel overwhelmed with renovating your home's landscape, but doing this is rewarding and can have positive impacts on your house, including value.
Think about what look and design you want your landscape to have.
Consider asking for help from a landscape designer for ideas and visualization.
Add color with colored foliage plants.  (They require less care than blooming ones.)
Add interest with nonliving elements such as outdoor sculptures and waterscaping or water features. 
When planning the design for your yard, there are some considerations to think about. A huge concern is fire safety. Plant material that is fire resistant should be planted in any areas close to structures, and use nonflammable mulch in areas around the house.
A lot of older homes used junipers for foundation plants, but these are extremely flammable.  If you've got these, consider  removing them.  In general, deciduous shrubs and plants with moist leaves are better choices than conifers and those with aromatic leaves (these indicate a high volatile oil content – a fire hazard).
One thing to keep in mind is the water needs of the plants you'll be adding.  Water conservation should be integrated in your new landscape design. A consideration for plants would be using ones that do not need much water after they are planted. Native species require less water, so opt for local varieties wherever possible.
To keep plants healthy and thriving, have an efficient irrigation system professionally installed. With lifestyles the majority of people have now, there is very little time for maintaining a yard. This is why you should be thinking low maintenance as you're making changes.
For your new landscape design, remember to have plants that can stand up through hot AND cold climates. Also, you want them to need little waterand grow slowly. Pruning required should be minimal. You do not want to take on a new landscape plan that takes most your free time to maintain it.
Consult a local professional landscape designer, such as Architectural Landscape Design, about what plants you should use, and how to take care of them prior to choosing specific ones.  We'll work with you to come up with a landscape plan that's got the fresh, new look you want.  And we've got lots of ideas for low-maintenance landscaping as well.  We want you to  have time to enjoy your new yard!
It's easy to get things started – contact us today to arrange a free initial in-home design consultation.