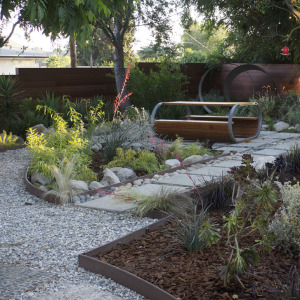 Smaller yards can be challenging, but with the right landscaping you can expand the possibilities.  Through the use of courtyards, you can expand the smaller outdoor space you have and make it a modern, yet appealing space to use. With a little designing, planning and then the installation; you can start using your space as soon as you want. Here are some ideas for making the most use of the space you have.
First, eliminate any messy or cluttered areas in your yard. This opens things up gives you additional space to work with. Make sure the ground is even and there are no troublesome holes.  A clean, organized yard is a happy place to be.
Then consider adding some bushes and other dividers that can section off the space you want to use. With bushes around the outside of the yard, you're creating a fence that is not made from wood. But if you prefer a fence structure, you can get creative.  Hanging planters allow the fence can have blooms coming from it, or you can choose from plain ones that provide a straight, modern point around the outside.
Think of your entire backyard as a courtyard.  Patios and decks within that courtyard can make more space for you to use. You might want to completely replace your lawn with hardscaping, but if you want a bit of grass, go for a smaller structure. Place your furniture on the deck or patio and then create a small kitchen space on it, or cover it with a pergola. The space is yours, and this can be an inviting place to sit and relax in the sun.
Trees can also be planted around the outside of the yard to provide a fence. They are ideal for providing shade and oxygen as well as blocking out the sights and sounds from the rest of the neighborhood. When you place these trees around, you're not only helping the environment but you're enhancing the feel of your outdoor space as well.
Landscape design isn't just for large properties.  With the right elements, even a small yard can be turned into an inviting and beautiful place.  For some inspiration, check out our Pinterest board on Small Landscaping Ideas.
We can help you make use of your smaller backyard space and turn it into an inviting courtyard.  Speak with us here at Architectural Landscape Design. We are able to provide you with the designs needed to truly make your small yard stand out. We are a licensed MN landscaping company for the Minneapolis and St. Paul areas.