With summer finally here in the Minneapolis area, being able to enjoy a refreshing swim in your own backyard is a real perk for many homeowners.  Swimming pools are a highly popular feature in today's homes for a variety of reasons. But there are a number of factors to consider when deciding which pool is best for you? Here's a previous post that looks at various styles of pools and fountains.  With this post, we well compare two very popular styles and consider which would work best for your home environment. 
Two Popular Pool Types:  Skimmer Pools and Overflow Po
The term "skimmer pool" comes from a device called skimmer.  This unit takes water from the reservoir for cleaning and disinfection. The skimmer can be found under the top edge of the swimming pool. This is the main distinction between the skimmer pool and the overflow poo,l where the surface of the water is even with the edge of the pool deck.
With smaller skimmer pools, water is drawn from top to bottom in order to be cleaned. Water that has been cleaned is then conveyed through nozzles found on the other side of the water intake. For this reason, the water moves in a horizontal manner.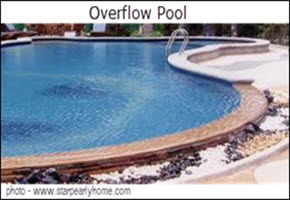 Overflow pools (often called "infinity pools") are recommended for personal use or for a closed group. Building such pools is a more complicated process. Water that leaks does not travel to the treatment system right away. Instead it is initially sent to the compensation tank, then to the pump to be filtrated and disinfected. The system carries the water through the pool bottom nozzles, which means the water travels vertically. Many feel this type of artificial system can provide a higher level of water quality. For this reason, this style is often used for public pools. 
We hope the information in this post has armed you with the knowledge needed to help you decide on a pool. At Architectural Landscape Design, we can assist you with all your pool-related needs. Whether you're seeking a Minneapolis pool installation contractor or you simply need information to help you make the proper choice on a pool, we'd love to be of assistance. Find out other ways we can you help you with your landscaping needs – give us a call today! 952.292.7717.

For pool ideas, be sure to visit our Pinterest boards: Pool & Spa Ideas and Landscaping for Pools & Spas.