Let's face it, this time of year tends to be stressful for most of us.  With the winter holidays approaching, the to-do list can get out of hand.  Between gift shopping, baking, and deep cleaning your house for parties and house guests, your calendar is probably more than full.
Let us take one thing off your hands – outdoor holiday lighting.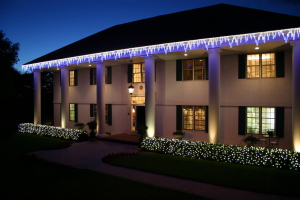 While many homeowners install their own lights and outdoor holiday decorations each year, there are plenty of reasons to turn this task over to a MN outdoor lighting contractor.
No more rummaging in your storage:  Do you dread going up into the attic each November to pull out those boxes of lights and outdoor decor, only to find that you've got a tangled mess?  Are the bows crumpled on those once-beautiful wreaths?  Or worse, has a rodent has made a nest in that carefully packed box and destroyed yards of garland?
When you hire a professional holiday lighting company, you can say good-bye to boxing and unboxing decorations and lights each fall.  Not only do we put up and take down the lights and other decorations but we store them for you so you don't have to carry boxes up and down steps or a ladder, and no more trying to unravel that tangled ball of lights, only to find out they don't work.  And no more sorting through pieces of broken ornaments and decorations.
Stay off the ladder and stay safe:  What's worse than climbing up a ladder outdoors?  Climbing up a ladder that's perched on uneven, frozen ground or ice.  And then there's getting up on the roof.
Each year the emergency room gets plenty of business from people falling off ladders (or roofs) while putting up their holiday lights.  A broken arm or leg is really going to put a cramp in your holiday plans, not to mention your budget.  So why not make your holidays a little more enjoyable and safe by letting a holiday lighting contractor take over the ladder work?  We've got the equipment and the experience.
Don't blow your circuit breaker or your utility budget:  Do you have any idea how much power those strings of lights will draw?
Without the proper planning and technology, lighting up the exterior of your home for the holidays can cost much more than you anticipated, and it can draw more power that you might be prepared for.   As experienced holiday lighting design and installation consultants, we can custom-design a look for your home that won't break your budget or blow your power supply.  We've got a variety of lighting options, including LightLinks™, an energy-efficient LED product.  And you can even put your lights on a timer, so you don't even have to remember to turn them on and off!   And we'll take care of maintenance, removal, and storage of your decor until next year.
In addition to lighting we also offer:
container pots
wreaths and garlands
3D displays
pre-lit trees
residential and commercial
We can't take all your holiday stress away, but we can handle this one.  Why not call us for a free consultation and find out how much you could enjoy the holidays this year by letting our landscaping company handle your outdoor holiday lighting and decor?