Shady spots in yards can often present garden design challenges.  Most colorful flowering plants require either full or partial shade, and in the past homeowners with areas in full shade were left with ferns, hostas, and other foliage perennials as their most traditional options.  We recognize that these old faithfuls of the shade have their place in many landscape designs, but sometimes a shady area of a yard just cries out for color.  As beautiful as some of these can be – and many have small flowers or variegated leaves to add to their interest – there is a whole new batch of shade-loving perennials hitting the market for the 2013 landscaping season.
There are delicate lilac-colored anemones and brilliant deep pink hellebores to provide a dramatic pop of color underneath the shade of a tree or the side of a home which doesn't get sunlight.  Shown below is the 'Fire Alarm' Coralbells, proof that dramatic color isn't limited to flowers.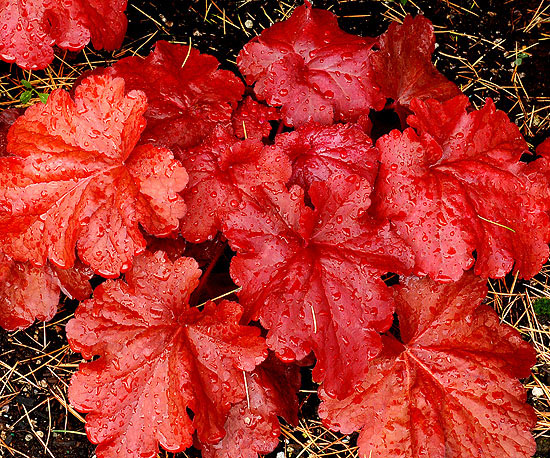 Choosing the right plants for your landscape depends on much more than your taste in flowers and your color preference.  Whether you want to add perennials for year-after-year beauty, or provide garden beds filled with annuals for a yearly explosion of color than can change with each coming season, there are many factors to take into account.  The amount of sunlight is just one thing to consider.  There are also such things as soil and moisture as well as the design of your home.
Helping you choose the right plants for your landscape – whether shady or sunny areas – is where a good landscape designer can come in handy.