Stones can play a helpful role in giving your Minneapolis area landscaping a distinctive look. Here's a previous blog post that explores some of the many ways stones can make a yard really rock.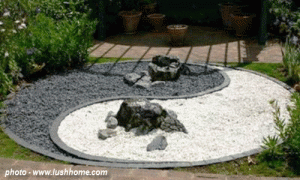 Using natural rock can work with just about any garden design, but in this post we'll focus specifically on Japanese rock gardens (often called Karesansui gardens). This rock garden is a highly popular style that could serve as a wonderful way to spruce your yard up and give it a unique and serene look.
Types of Japanese Rock Gardens
Let's cover three basic types of Japanese rock gardens:
Zen rock gardens

Natural rock gardens

Rock garden landscapes
All three types have in common the use of pebbles, boulders, smooth stones, moss and gravel. And all three have their roots in Zen Buddhism and were designed for the purpose of reflection and meditation. 
What sets Zen rock gardens apart is their tendency to use elements of yin and yang in such a way that creates balance between the two. Such gardens are typically in-ground and sectioned off in an area clear of all other rocks. While these areas don't necessarily require much upkeep, there are some Zen Buddhists who've been known to re-groom their rock gardens on a daily basis.   The grooming process itself enhances the contemplative nature of these spaces.

As its name would suggest, natural rock gardens are meant to appear as though they occurred naturally. These gardens have few, if any, elements that have been groomed. They are typically loaded with boulders that may appear to have randomly situated by Mother Nature but are in fact placed with great care to allow guests to sit in an area that allows contemplative thought.
A rock garden landscape — like a Zen garden — is usually in-ground and requires space to be cleared in advance. The basic idea behind such landscapes is similar to that of a bonsai tree. Those who gaze upon a bonsai are able to see or imagine a full-sized tree and the landscape underneath it in a miniature, potted tree.  A rock garden landscape can lead to visions of a full-fledged natural spot.

For a look at just some of the endless possibilities in Japanese rock garden design, visit our new Pinterest board.
It is our sincere hope at Architectural Landscape Design that posts like this will inspire you to create the dream landscape you've always sought. But inspiration is just one of many ways we can help you achieve your landscape dreams. Get in touch with us  today to see how  Architectural Landscape Design can help you!  We offer free initial consultations.  We are a licensed landscaping contractor serving the entire Minneapolis St. Paul MN metro area, including outlying Minnesota communities.