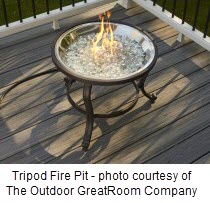 Do you have a beautiful gas fire pit outside on your deck or patio? Well, another Minnesota winter is coming –  better prepare and get ready so that fire pit stays as good as new.
A fire pit is an investment in entertaining possibilities because they tend to bring people together. Whether it's family, friends, or colleagues, the flames and warmth of the fire pit pulls everyone in. So why let that experience get ruined by this pesky winter weather?
Some of our clients use their gas fire pits year round, even in the cold and snow here in the Minneapolis area, while others put theirs away until spring.  If you won't be using yours through the cold season ahead, you should winterize it.  Here are steps and precautions one can take in order to keep a gas fire pit perfect for next year so everyone can continue to be brought together again and again.
Steps to Winterize Your Gas Fire Pit

Here are the steps to get your fire pit clean and into storage for this upcoming winter:
Remove everything that you can find on the burner of the fire pit, such as dirt or leaves. This way wiping it down will be very easy.  (This should be done in the fall even if you plan to use it in the winter.)
If you have a natural gas fire pit, shut off the gas line or close the gas valve. This way the fire pit is cut off from the gas so it can safely be stored.
For propane units, shut off and remove the propane tank carefully, as it could be slightly heavy.
Remove any accessories like a glass wind guard and store them inside so you can easily find them when the winter weather disappears.
Use the burner cover in order to cover the crystal fire burner.
To clean it just wipe down the top of your fire pit and the burner.
Lastly, take a vinyl cover and completely cover the pit so it will be safe from dust and liquids while it's in storage. 
If you're planning on using it for the winter and aren't putting it into storage, keep it covered or protected from ice and snow build-up so you can use it at a moment's notice. 
Now your gas fire pit will be clean and can be stashed away for the winter. Some suggestions for storage are the garage, the shed, or the basement. It really doesn't matter much because no matter where you store your fire pit for the winter – you just want it easily accessible so it's ready to go when you need it.
Speak with us here at Architectural Landscape Design if you're in need of an outdoor fire feature to add a little heat to your outdoor entertaining.   We're scheduling planning sessions right now with clients to be ready for installation come spring.
We are a licensed MN landscaping design and installation contractor.  We serve not only the entire Minneapolis and St. Paul metro area but also surrounding Minnesota and western Wisconsin communities.