Imagine warm summer evenings, relaxing with your guests in the comfort and seclusion of your own back yard, enjoying the natural beauty that surrounds you.    Outdoor gatherings call for festive food and drinks, and what better way to present them than on a table which reflects that natural beauty that surrounds you?  Custom stone furniture, some incorporating both fire and water elements, can be the perfect accent for your outdoor rooms.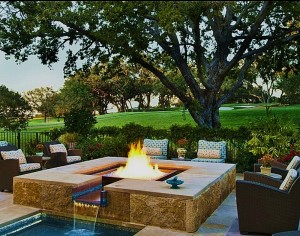 Furniture custom crafted from natural stone provides a unique touch to your landscape.  While stone can be rugged, when properly crafted it can provide a natural elegance that no other materials can match.  Plus it's exceptionally strong and naturally durable.
The "Fire Table" shown at right brings a variety of elements into play – the smooth lines of the finished stone table providing a great surface for either serving refreshments or propping up your feet.  Can't you just imagine serving roast-your-own shish kebabs on your patio while you enjoy the ambiance created by the sound of flowing water?  Who needs to travel to a resort when you can have this atmosphere in your own back yard?
Our custom-designed outdoor furniture pieces are truly works of art that are extremely functional as well as beautiful.  And since each piece is handcrafted, we can design outdoor furniture that reflects your own personal tastes.  The stones we use are carefully selected from  local quarries, so you can be confident that your furniture pieces will feel at home in a Minnesota landscape.
If you're interested in learning more about our unique new line of outdoor custom stone furniture, please give us a call.