Have you checked out our Photo Gallery recently?  Or perhaps you follow us on Facebook or Pinterest.  If so, you've probably seen shots of some of the retaining walls we've constructed here in the Prior Lake area or other parts of the Twin Cities.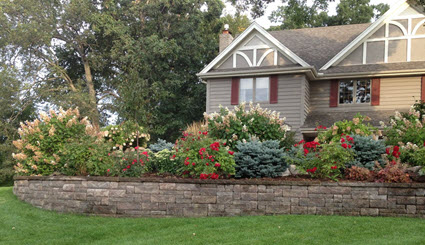 Retaining walls quite often have a function; they're a great way to convert a sloping yard into usable outdoor areas.  Retaining walls are often used to create raised garden beds or rock gardens. They can also provide seating, enclose an outdoor room, frame a set of outdoor stairs, and more.
Since these structures are meant to last a long time, and because often the stability of other landscaping elements depends on them, what goes into the design and construction is extremely important.
Why Do Retaining Walls Come Down?  
Frequently it's because of the load-bearing pressure against the wall.  If it wasn't properly designed to sustain a certain pressure load, eventually it will give way.  Another reason a wall may cave in is that the soil behind it is wet because proper drainage wasn't included in the design.  So we take into account things like shear and hydraulic loads as well as soil drainage.
And all our retaining walls are engineered.  You might not know this, but the State of Minnesota (and most municipal codes) requires all retaining walls over four feet to be engineered by a certified engineer.  And if the wall is on a certain type of soil or a wetland, we also have it engineered to make sure the design is sound.  Then we know it's going to last.
How We Design Retaining Walls
The planning and engineering of a retaining wall is extremely important.  There are multiple factors that we take into account when designing them that many people may not be aware of.  And if the process isn't done right, the wall won't last.  We are periodically called in to replace or repair a wall that has caved in. Some have been homeowner DIY projects, but others were actually done by commercial landscaping contractors.
Yes, it is important for a retaining wall to be aesthetically pleasing and to fit well with the overall landscaping design.  But for a retaining wall to remain in place and do its job, it's crucial to have it structurally sound and well thought out from the very beginning.
We Offer Many Options for Retaining Walls
A retaining wall can be constructed of a number of different materials.  Some walls might be stacked stone, others might be made of brick, block, or pavers. Or we might combine several materials. We often cap a wall off with smooth cut stone, especially if the wall is to be used as seating.
When we design a retaining wall, we take into account the other structural elements in the overall landscape design, as well as the architectural style of the home.  And it's common for us to use a material in the retaining wall that's also used in other places around the yard, such as a support pillar for a pergola or an outdoor kitchen surround.  You don't want the wall to stick out like a sore thumb; it needs to flow with the look and feel of the rest of the yard.  If it adjoins a patio, the material used needs to complement the patio material.  So the choice of what to use to construct the wall is also very important.
And we're extremely proud of the fact that in-house we've got the expertise and artistic ability to custom craft natural stone into retaining walls.  Custom stone work is quickly becoming a lost art, but here at ALD our stone artisans are endeavoring to preserve it in creations like our natural stone retaining walls.
If you'd like to find out more about how a retaining wall could transform your property, why not give us a call today for a free consultation at your home?  We are a licensed Minnesota landscape design, installation and maintenance contractor based in Prior Lake, and we serve the entire Minneapolis and St. Paul metro area.