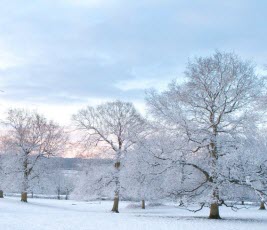 Snow is a fact of life here in Minneapolis.  While we protect our bodies by adding on layers and wearing boots, we often don't realize that many areas of our yards need protection from Minnesota's harsh climate as well.  There are numerous damages that can happen to the shrubs, trees, flowers and other parts of your landscape when the cold winter hits.
Here's a good article from the University of Minnesota Extension Service about protecting your landscape and noticing signs of these changes, you're able to prevent further damage from happening.
Consider different methods of winterizing the yard during the fall when the weather is cool but hard frost has yet to hit the area. Animals that are looking for something to eat or somewhere to burrow when the weather drops may find themselves in your garden or landscape. You can prevent any animal damage by being prepared and taking extra precautions to protect the area.
The Benefits of Preparing Your Landscape for Winter

Keep your garden and landscape design free of rodent and animal damage.
Keep your garden and landscape free of winter and cold weather damage.
Prepare the landscape to look beautiful when spring rolls around again.
Help your landscape look its best in the winter months.
Architectural Landscape Design offers custom design and landscape maintenance services in the greater Minneapolis area.  We can help your yard look great in any Minnesota season!