Spring is finally here in the Twin Cities – yes!!!  If you haven't been outside today, get out and enjoy the sunshine.  It's the warmest (and driest day this week).  It should get you in the mood for enjoying the outdoors in your yard.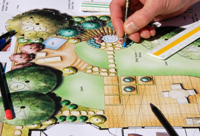 One of the most popular springtime projects in Minnesota is creating a better outdoor living space around a home. After the snow and cold temperatures have subsided, it is only right that homeowners go outside and enjoy the sunshine and fresh air.
By creating a functional living space, you can ensure that the outdoors is used much more often. Using these tips to prepare for the upcoming project can make it more enjoyable and less stressful.
Set Your Budget
Knowing what you're safely able to spend can put you in a better position to pick and choose what you'd like to have in the outdoor living space. Depending on how involved you'd like the project to be, you'll want to set aside a specific amount. Decks and stairs, pools, outdoor kitchens and other items can be a bit more costly than some smaller projects.
Create a Landscape Design
You want a design laid out first, before you start the process. This will give you an idea of where everything is going to go. When you work with a landscape designer, you can give them your ideas and they can help you come up with the perfect design that is also within your budget.
Find a MN Landscaping Contractor and Hire Them Early
When you find a contractor and designer to work with for your outdoor space, you're easily able to implement the outdoor area with much more efficiency. They can work with you, your design ideas and your budget to come up with an outdoor space that works with everyone involved. When you hire them earlier, you're more able to make use of them when the time comes, instead of having to wait for them to finish other projects. They tend to become busy in the spring months.
Consider some of these other factors regarding designing and implementing your outdoor living space.
When you're ready for some help to design and install your outdoor space this spring, give us a call here at Architectural Landscape Design. We can go over the designing and planning process ahead of time, and then make your outdoor space become a reality. We can help you from start to finish.  Our initial in-home design consultation is free, so what have you got to lose?