Spring is just around the corner (honest, it is), and that means a whole new opportunity for entertaining.  While winter in Minnesota isn't always conducive to outdoor gatherings other than roasting marshmallows over a fire beside a skating pond or a sledding hill, warmer weather means an explosion of possibilities for outdoor entertaining in your own yard.
With outdoor living spaces, having guests over doesn't have to mean confining them to the house.  In fact, with the right design elements, your living and gathering areas can flow seamless from indoors to out via such things as french or sliding doors opening onto a patio or stone terrace, with a walkway leading to an outdoor kitchen or a pergola-shaded dining area.  Or perhaps you prefer something simple such as a fire pit set in the middle of a brick patio, surrounded by comfortable and rustic furniture.  Whatever your tastes and entertaining style, there are outdoor living space ideas which can fit in your landscape and your budget.  Here are just a few: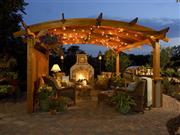 If you enjoy serving meals outdoors but don't have much shade in your yard, consider installing a pergola over a patio near a patio door.  Bringing food from the kitchen to table is simplified, and a pergola with vining plants or lattice work can provide some shade.  Another possibility is to add a gazebo to your deck.  Make it large enough to include a table and chair set and you've got outdoor dining possibilities no matter what the weather.  Go one step further and add outdoor lighting and your party can go on after the sun goes down.
Perhaps your entertaining style leans more to bringing your guests into the meal prep itself.  In that case, you might really enjoy a full outdoor kitchen with an adjacent eating area.  If that's alittle more than you had in mind, a pizza oven or a barbecue pit with a stainless steel counter under a canopy or roofed area might be just right touch.
When adding outdoor living spaces to your landscape, think in terms of not only what goes with your home and your lot but what fits with your lifestyle.  If most of your entertaining happens in the evening, it's a must to incorporate outdoor lighting.  But if you delight in bringing guests in to have a snack amid your prize-winning roses, a brick patio under an arbor near your flower beds could provide a cool spot for an alfresco lunch.  Other ideas for outdoor entertaining include bocce ball courts and horseshoe pits, a fireplace next to a flagstone patio, or a multi-level deck with several separate seating areas.   For some inspiration, check out this gallery of outdoor room photos.
Adding permanent structures to your landscape can enhance your home as well as expand the possibilities for entertaining friends and family.  In Minnesota we spend a lot of time cooped up indoors during the winter, so when the warm weather rolls around, having an outdoor area to gather can be a nice change of pace.
If you see something that you'd feel at home in but wonder if it will fit into your landscape, give us a call.  At Architectural Landscape Design we specialize in designing outdoor living spaces and outdoor lighting to provide an extension of your home in Minnesota's great outdoors.