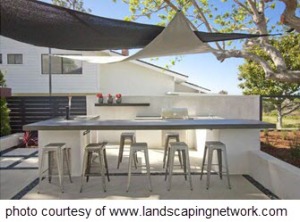 Part of having an outdoor room is providing cover to get out of the sun or at least partially block it. 
Perhaps you've got natural shade from trees, but many homeowners don't have that and so need to find other solutions.
If you've ever considering a way to shade your yard, then you've probably considered the many exhausting options – shades, awnings, canvases, curtains, lattice, drapes, and more. Knowing which one to use for your yard can be difficult and tedious.
Shade sails just might be the right choice.  
Shade sails provide you with beauty, luxurious look and, of course, the affordability, durability and ease of use. Through the use of these lightweight fabric pieces, you can find the many benefits that come with adding this type of shade to your outdoor location.
The experts at Landscaping Network give us a run-down on these shades and let us know just how they work. Read this article to find out whether or not they are the shade solution for you, or whether you should pass on them.
What You'll Learn About Shade Sails:
Besides helpful basic information about these shades, you will also learn:
Why you should choose them
Where they should go in your landscape design
Which ones are best suited for your outdoor use
How much they cost
Why you shouldn't use a shade sail
If you're ready to get started on the shade sail for your yard, check us out and let us know. We can help you come up with the proper placement for them, so you never have to worry again about that brutal sun. We can also suggest other shade solutions such as pergolas, arbors, and more.  Why  not call us today for a free initial design consultation?  We offer licensed landscape design and installation in the Minneapolis and St. Paul MN area.