The first step in having a beautiful and useful backyard is to get your outdoor spaces set up.  Areas like decks, patios, gazebos, and other spots are the starting points for gathering spots in your yard.  But you need more than just a spot – you need the right furniture.
Outdoor furniture not only gives you a place to sit and enjoy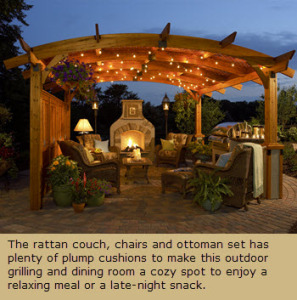 the weather around you, but it is also a way that you can enjoy the look of your yard. By having the ideal furniture, you're better prepared to entertain the guests that come through, while also being able to have a place to sit when you're out there just enjoying the sun.
When choosing outdoor furniture, you've got a lot to select from.   Materials range from resin to metal to rattan/wicker (natural or synthetic), plastic, stone, and genuine wood.
If the look you're going for is rustic and natural, wooden furniture is able to provide this.   Outdoor wood furniture comes in a variety of woods, some such as teak that withstand the elements well, and others such as redwood or cedar that will achieve a nice gray weathered look over time.  (For information on specific types of wood for outdoor furniture, click here.)
If wood is what you're looking for in outdoor furniture, watch for deals.  Wood is a bit more expensive than plastic but has a more natural look, and with the right care will last longer.   But before you take that purchase home, inspect each piece carefully for cracks or warped spots.
If you're going for a more modern look, metal furniture might be a good choice.  Aluminum is light weight and easy to move if that's an issue, but it's not as durable as steel or wrought iron. However, metal isn't a good choice for sunny areas as it can hold heat.  Opt for wood or wicker for those spots.
Plastic and resin furniture are usually less expensive.  Choices run the gamut from those cheap dime store patio chairs to high-end resins that have the look of wood.  Keep in mind that plastic furniture will fade over time.
Here at Architectural Landscape Design, we are able to custom design natural stone furniture that can fit well with the landscape that you have. Now is a great time to think about making changes for your outdoor rooms and making them stand out more. There are always great clearance deals on outdoor furniture and items during this time of the year. Speak with us when you're ready to get designing.  January is a great time to take advantage of our free initial design consultation offer.  We can get the planning started now, so you're ready for installing that outdoor room as soon as the weather warms up.