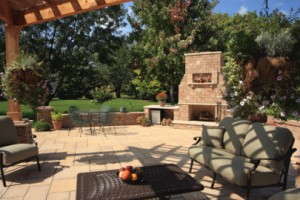 Spring may be a little sluggish in Minnesota, but it got here just the same. And now summer is right around the corner.  This prompts many in the Minneapolis metro area to give very serious thought to the design of their patios as well as their gardens. Do you want to stick with a more-or-less conventional look? Or would you prefer to take the risk of following one of the new trends?
This post is geared more towards those seeking to venture into new territory with their Minneapolis patio design and installation. We'll introduce you to some new ideas and give you a quick rundown of some of their benefits. Here now is a quick list of some trends in patio and garden design you may want to be aware of:
Natural materials
Outdoor fireplace
Local plants
The use of natural materials has recently become quite popular for interior design and home decoration. This trend has also impacted outdoor space. A flagstone bench — although somewhat expensive — is a great deal more attractive than a plastic one. And it will very likely be a part of your family much longer.  If natural materials for your patio appeal to you, we offer custom-crafted natural stone furniture.
So far, this spring in Minnesota has been a cool one. And if you're a Minnesotan you don't need to be told that Minnesota fall air can get a bit crisp.  And sometimes summer nights are cool, too.  A fireplace can be a great way to warm up and have family gatherings. Outdoor fireplaces, fire pits, and fire tables are showing up in a wide variety of designs.  For more ideas on this, visit our Pinterest board on outdoor fire elements.
The use of local plants in garden and flowerbed design has been very much on the minds of landscapers recently. Native flowers and grasses tend to be less expensive (or sometimes free), and they will give your garden something of a traditional look.  Native plant species are a great eco-friendly landscaping choice because they require much less watering and feeding than non-native species; that means less landscape maintenance and less water use.
As landscape design and installation contractors serving the greater Minneapolis MN metro area, we will continue to be a trusted resource for you and your landscaping and garden needs, whether you choose to chase the latest trends or stick with the tried-and-true. Contact us today for more information on what we can do for you!  We are currently offering a free initial consultation – call us today to schedule: 952.292.7717.