Now that the warm weather has arrived in Minneapolis, we're spending more time outdoors.  And that means outdoor furniture.  Is yours ready for the season ahead?
Whether you're choosing a stock set of outdoor furniture from the store because you've got nothing at all, or you're bored with what you've got and want to change things up a bit, consider some of these fun ideas for creating furniture in your yard. Not only are they functional, but they are unique, different and creative; your space can take on a whole new outlook and your guests will be impressed.
Popular Outdoor Furniture Materials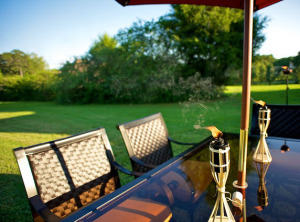 As you're shopping for new patio furniture, you'll find you've got lots of options.  Here are some of the more popular ones.
Wood:  Wood is a popular choice because it stands strong against the outside elements all around it. Wood looks natural, but it's versatile in terms of finish.  You can paint or stain it, seal it and make it your own. But wood furniture needs periodic refinishing and can fade if left out in direct sunlight.
Wicker:  Wicker is a beautiful traditional choice. It can be comfortable when you place thick padding on it. It also comes in many different designs, styles and colors, so you can mix and match and choose the one that sits well within your outdoor landscape.  Wicker is available both in natural as well as resin.  Natural wicker doesn't hold up well in high moisture conditions, so reserve it for protected areas.  But if you like the look, opt for a synthetic.
Wrought Iron: Iron is one of those" take me or leave me" types of material. However, it does do well outside of the home in the weather elements and can last a long time. In addition, just like wicker, it provides you with many colors, styles and designs to choose from. Of course, this is another material that you'll want to add padding too, as well.
Stone:  Stone furniture is something that not many people think about for their outdoor rooms. However, stones and rocks can be turned into anything that you want with a little chiseling and hard work. Custom natural stone furniture is something we provide at Architectural Landscape Design.
There are other options available – glass- or resin-topped tables, powder coated metal, molded plastic, and more.  The range of styles and materials available is almost endless.  You can choose rustic genuine wood Adirondack-style furniture if you're looking for a woodsy theme, or go with a tile-topped metal table surrounded with cushy upholstered metal chairs if your preference is comfy modern.  And being able to add cushions in a rainbow of fabric colors and designs means you can customize your look.  Just make sure that the furniture you choose is comfortable, suits your purpose, and fits with the overall design of your outdoor areas.
We are much more than a garden design company. We offer a wide variety of landscape design and installation services for homes and businesses in the Minneapolis metro area.  We can take a bland space and truly make it stand out on your home. If you're having trouble finding unique furniture for your yard, ask about our stone furniture that is made to order. Your yard will take on a whole new meaning when you choose to change something up in it.