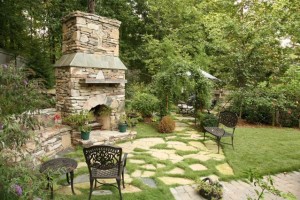 In part one of this post, we explored a number of new trends that are currently quite popular among those who have landscapes in the great Minneapolis area. We spoke, for example, of outdoor kitchens.   These backyard spaces continue to be one of our most popular landscaping projects.  Here are more trends we will cover here in Part 2:
Low maintenance landscapes

Outdoor living spaces

Outdoor recreation amenities
If you are always on the go, the idea of a low maintenance landscape must sound like heaven. But there are advantages to such an approach that go beyond the amount of time saved. For example, having a simple produce garden instead of a portion of your lawn can not only provide tasty fruits and vegetables, but it can go a long ways towards reducing the environmental impact of your landscape.  Xeriscaping is a new trend that reduces the need for additional water and, as we discussed in part one of this post, rain gardens can also divert runoff.
Natural materials in a spot designed for relaxation is also highly popular. The term outdoor living spaces is used to describe such an environment.  These outdoor rooms can range anywhere from a simple stone bench beside a reflecting pond to a freeform pool designed to look as if nature herself had created it.  Waterfalls spilling down rocky hillsides, comfy swings under vine-covered arbors, and stone patios with a natural stone fire pit all fall into this category.
Also high on the list of hot trends is outdoor recreation amenities. Among the most popular kinds of recreation are water elements such as ornamental pools, splash pools. waterfalls, grottos and water runnels. The ever-popular swimming pool is, of course, always a favorite, as are spas and hot tubs. For those interested in the installation of a new swimming pool, here's a link that could be very helping with maintaining such an undertaking.  And then there are other things such as bocce ball courts, recessed trampolines that lie flush with the ground, and outdoor media rooms.
Architectural Landscape Design can be a tremendous landscaping resource in a number of different ways. We can assist you with any aspect of Minnesota landscape design needed, and we are licensed to install a variety of landscaping features such as pools and spas, landscape lighting, and outdoor kitchens.  To find out what Architectural Landscape Design can do for you, get in touch with us today! 952-292-7717

We are a MN landscape design and installation contractor serving the entire Minneapolis St. Paul metro area, including outlying communities around Minnesota.