With the right landscaping, the backyard can be a beautiful place that provides a lot of use for the whole family. However, how do you know which trend is the best for the year? Which is best for you and your family? With these backyard trends for the year 2015, you're able to get an outdoor spot right at home that's perfect for you and all that you want in your yard's landscape design.
Creating an Outdoor Zone 
A lot of people think of a backyard as one large space that you need to use all together. However, this is not true. You can split up the backyard into many different areas that are able to be used for different purposes. Think of it much like the inside of your home. You have different rooms, and you're able to use them for different things. The backyard of your home is no different.  You can have a spot for games, one for quiet relaxation, and one for entertaining guests with a great meal.
Creating a Path Through Your Yard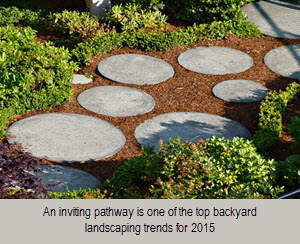 When you create a beautiful walkway throughout the backyard, you're able to create an invitation to the spots in your yard as well as a lovely way to get there.  Add elements to the pathway – it doesn't have to be a linear sidewalk.  You can add an inviting area to sit beside the path that's next to a garden or fountain.  Or perhaps you can tuck in a secluded nook under an arbor.
The path can be made from many different materials such as brick, marble, stone, concrete and just about anything that you can think of that is not going to wear down with the weather elements around it.  One important point, though, is that your pathway material and your walkway's design has to be harmonious with the other elements in your yard as well as the look of your home.
Floral Additions to Add Color and Invite Wildlife

Adding the right flowers throughout the backyard can attract birds, bees and butterflies to come into it.  Adding the right plants and flowers will invite in the wildlife you'd like to have visit your yard. These plants welcome the beautiful creatures of nature to come and enjoy the beautiful yard you've designed.
If it's time to turn your backyard into a beautiful enhancement to your home, speak with us here at Architectural Landscape Design to plan your ideal backyard space. We can help with any ideas that you might have in mind for the space that you have to work with, no matter how big or small. We can help you plan now in the winter months, so you're ready to go in the spring.  If you're a little short on ideas, why not visit our Pinterest site?  We've got lots of inspirational photos and ideas for you.  Then give us a call for a free initial design consultation!
Architectural Landscape Design is a licensed MN landscaping design and installation contractor.  We provide landscaping services in the Minneapolis and St. Paul areas as well as greater Minnesota and western Wisconsin communities.