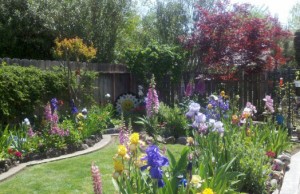 Are you looking for a unique yet somewhat traditional landscaping idea for your Minneapolis area home?  You might want to consider a romantic and charming cottage garden. Cottage gardens have a longstanding history in outdoor landscaping, spanning different continents, countries, and centuries.
The basic design of a cottage garden involves density: as opposed to minimalistic Asian-inspired gardens, cottage gardens have many different elements in small space. They were originally born of necessity for people who lived in cramped quarters on small plots of land. Families relied on fruits and vegetables for sustenance, and to some extent flowers for medicinal and herbal purposes. Reaping a large enough amount to sustain a family's needs required a garden packed tightly. Also, the architectural styles of the time used wooden fences with thin layers of paint.
In other words, the traditional cottage garden is a quaint white picket fence with a lot of plantings. In the past, that meant a functional part of a space-challenged household. These days, it's suggestive of history and tradition, and is a romantic, familiar way of incorporating relaxation and exposure to nature. However, because cottage gardens involve dense amounts of plantings, a lot can go wrong if the design approach used is to throw as much as possible until the land can hold no more. These factors can help guide proper, balanced design.
It is still possible (and a bad idea) to be excessive. No, cottage gardens don't work well if the coverage is sparse, but that doesn't mean that the experience of being in a cottage garden should be overwhelming. Layering is a good technique, as are thoughtful color schemes that don't inundate the senses and distract from the beauty of the variety of plantings.
Small additions of wooden and ceramic materials go a long way. Flowers, vegetables, and fruits are the mainstay of a cottage garden, but a dog house, bird fountain, or small statue can break up dense groupings of flowers and bring a sense of balance to a general scheme of vivid colors.  A wooden bench tucked in among towering floral stalks can be a delightful spot to sit and enjoy your yard.
Beautiful as they can be, cottage gardens generally require a MN professional landscape designer's touch.  Cottage gardens are just one of the many design elements that can bring a unique touches to your Minnesota home. We can help you dream up, design, and install a unique garden in your yard this spring.  Now is the best time to start planning:  give us a call at (952) 292-7717, and we'll be happy to meet with you to discuss your issues and options.