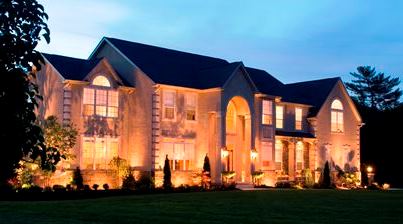 Good landscape design incorporates a variety of elements, including lighting.  If landscape lighting is used correctly, it is able to provide a soft glow to make the outdoor space pop out, be more defined, and create a more attractive space overall. With the right lighting you're able to mix and match different elements to create the perfect look that you want. Everyone is different (and so is each home), so you might find that one type of lighting works the best for you over another. We specialize in outdoor landscape lighting so we've got plenty of experience in creating a specialized design for an outdoor space that you will love, as well as one that fits your specific style. Every person and property is different, so choosing what works for both is essential as we develop each landscape lighting design.
Things to Keep in Mind When Adding Outdoor Lighting

'Down' lighting is something that can illuminate the things throughout your outdoor space such as walkways, patios, plants and so on. spot lighting focused downward from above can give a softer glow than direct lighting.  Spots can be placed up on tree trunks, overhead on deck eaves, or on pergolas or gazebo roofs.


Putting back lights on trees and shrubs using wall washing features can create beautiful silhouettes, especially in the winter when other growing landscape elements fade.

Pathway lighting can help you see where you're going.  Adding lights down the walkway to and from your home is a safety feature in addition to providing an attractive nighttime view.

Highlight pieces throughout your yard by using up-lighting. This can be done on a fountain, trees, or any specific piece throughout the yard, including your home's exterior.
Now is the time to find out what can be done to your yard and outdoor space by using some dramatic lighting features.  Outdoor lighting can help your yard show off its beauty into the night, enhance it through the season, and make areas of your yard safe and inviting even after dark.  ALD is a licensed lighting contractor serving the Minneapolis area.  Give us a call if you're interested on shedding a little more light on the subject in your yard.