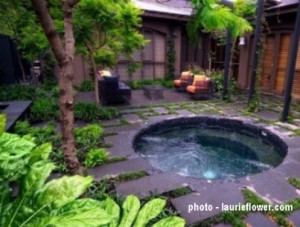 As the warmer weather approaches, many of us here in Minnesota are longing for summer days relaxing in the water.  Wouldn't it be nice to have that getaway spot right in your own yard?  With a garden spa, you can.
Combining the beauty of nature with knowledge about relaxation techniques offers a great way to design an outdoor garden spa that can bring both an escape from stress and informal therapy for a variety of conditions that burden us from realizing our full potential each and every day. Although this can be more art than science, there are many common themes and features to serve as inspiration and a basis for planning. Here are some ideas to stimulate your design imagination:
Stimulating the senses is the standard approach. Touch, sight, and hearing are the fundamental considerations for design elements. Contrasting these sensations with the experiences of indoor life and working environments is a sure-fire way to provide an escape.
Water is key. Water helps nearly everything it touches. The hot tub is the standard element for introducing water into therapeutic landscaping because of the relaxing nature of submersion in water and the calming effects of heat. Pools are excellent, too, as are landscaping water features such as fountains, waterfalls, and ground paths. Designing a pool anywhere in Minnesota can be a challenge because of the frequent cold weather, so pre-planning is a vital aspect of successful pool installation.
Music and video can help, but should be designed carefully. Although music can be very relaxing, it can also be overstimulating, and can recall memories of different experiences. Being able to adjust the volume of outdoor audio equipment is a key feature to look for, and can be difficult to get right, because sound tends to lessen in volume with even medium outdoor distances.
Comfortable body posture is necessary. It is hard to relax in stressful positions, which typically include standing and sitting on hard surfaces. This makes cushioning a key consideration, but choosing padded surfaces that can withstand wet weather is difficult. Research or professional help can help make the difference.
If you have questions about designing an outdoor garden spa, give us a call at (952) 292-7717 and we'll be happy to talk you through your issues and options.