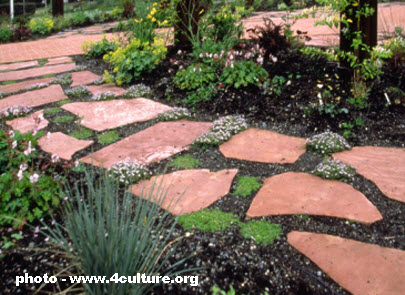 Have you taken a critical look at the paths and walkways around your yard?
As any Minneapolis landscape contractor can tell you, pathways are a vital element of any elegant garden or landscape design. They not only serve a functional purpose, but they play an enormous role in the aesthetic quality of any landscape. But the question of what kind of materials one should use when creating a pathway is often overlooked.  Concrete sidewalks may be the norm in many neighborhoods around the Twin Cities, but there are many other attractive choices.
Common Pathway Materials for MN Landscaping
In this post we'll discuss a few of the most common types of materials used for this purpose and delve into the specifics of the benefits of each one.
Aggregate Stone Materials
Stamped concrete
Natural stone
Brick
If you are seeking an inexpensive alternative to creating a garden pathway, aggregate stone materials are a good way to go. Installation tends to be easy, demanding only removal of five or more inches of dirt from the area. Then landscape fabric is laid down and the area is back-filled with the stone. Crushed stone and pea stone two common types of aggregate stone materials.
If it's a natural look you seek, stamped concrete can do a lovely job of serving that purpose. In addition it is quick to install and does not leave room for weeds to grow between stones. But be warned: this style tends to be fairly expensive.
For those who value a truly natural appeal, it's hard to top the look of genuine stone. When properly installed it feels like a part of the landscape. The only major drawbacks are the expense and the fact that weeds may grow between stones.
For a traditional choice, consider brick.  In addition to being fairly cheap, brick also has the advantage of its versatility. Bricks can convey anything from a formal look to a playful one. On top of everything else, this particular style is easy to install, and there is a wide range of colors and shapes available.
For those seeking more information on ideas for garden pathways, here's a good place to get started.
No matter which material you choose, it's a good idea to get the advice of a professional MN landscape design architect.  Choosing the materials is just the first step, and you'll want to make sure that your choice delivers what you're looking for in terms of appearance, maintenance, and overall compatibility with the rest of your landscape.  Get in touch with us today if you have landscape needs we can assist with!