The fall is usually when people consider it time to stop gardening, but if you've got a garden in your yard, don't stop caring for it just because things seem to be dying back.  Fall is the right time to start planning for next year's garden. It's also time to care for any perennials as well as laying the groundwork for next year's spring and summer.  Here are some tips to take care of your garden now.
Fall Gardening Maintenance
Watering is essential. You might think the plants do not need as much water because it is cooler, but they still need to obtain it from a source if it's not raining.   Earlier this month we did have some heavy rains in the Minneapolis area, so pay attention to the rainfall in your area, since you don't want to over-water.  You want the plants to survive throughout the winter, which means you need to adequately water them but not soak the ground to the point of causing rot. Give them around an inch of water each week.
Making sure to weed and do some clean-up in the garden bed is always a good idea. By removing weeds and dead or dying plants now, you're preventing problems in the future. If you've got a fruit or vegetable garden, you want to remove any produce that is overripe since this can bring insects and pests in.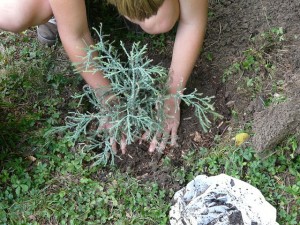 Plant your new flowers and shrubs during this time. Provide them with enough water — usually around 6 to 8 inches. Place some mulch and other protective layering around them as well to protect the roots.  Fertilize per instructions.
Most any spring bulbs should be planted towards the end of September (there are some that can wait until October; check the planting information that comes with the bulbs to be sure). This iwill allow them to take root in the ground, get established, and then sprout come spring time without a problem.   Local nurseries and garden centers are stocked with bulbs such as tulips, daffodils, crocuses, and other spring-blooming bulbs.
Harvest and store any produce that you may grow. You want to make sure that it is all inside before the first killing frost hits.  Some plants can handle a little light frost, but when in doubt, either harvest or cover at night.  Root crops like carrots and beets can stay in the ground until the ground freezes, but other things such as tomatoes and cucumbers should be harvested by now.  And then feed your produce garden for next year by adding compost or other organic material.
Fall is a good time of year to take stock of your yard and start planning for landscaping changes you'd like to make for the upcoming year. We are able to provide free initial consultations to those seeking a design and some expert advice. Check out our Pinterest page to see some of the MN backyard retreats we have done in the past.  Then give us a call – we're current offering a free initial design consultation.  952.292.7717.