When it comes to the weather getting nicer and being able to spend more times outdoors, you might be thinking of ways to spruce up the backyard a bit. This is something that allows you to spend time outdoors and actually like it out there. A lot of people think about televisions and surround sounds, high quality seating, and cooking arrangements but before you jump in head over heels, you need to think about some important aspects that go into the area in order to get what you want from it.
Know What You Have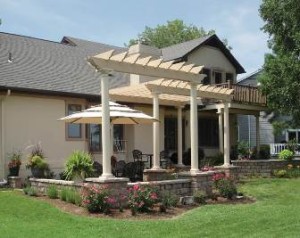 The biggest problem that people face when it comes adding outdoor living areas to their yards not considering how much space they have  and what might actually work within the space. That's where a professional landscape designer can be helpful.  If you have enough room in your backyard then you shouldn't have to worry about a thing, but a smaller lot calls for a more scaled, compact plan for maximizing the space. You might also not be able to have all of the items that you want which means sacrifices might have to be made.   Taking a realistic look at the area you have to work with is the best place to start.
Your Preferences
Know what you want to use the space for before you begin to talk layout.   This will help your landscaper tailor the space for your purposes. If you wanta lounge area to eat and talk while looking out over the land,  spacious seating and cooking facilities are the priority. If you have a large family that likes to play outdoor games and make the most of the space that you have, perhaps adding a pool or outdoor game area in the backyard would be perfect for you.   Where your outdoor spaces go depends on what you want.
Whether you've got an expansive, wide-open space or a compact lot, we can design an outdoor living area that fits your yard and your plans.  If you can imagine it, we can help you bring it to life.