You have so many choices in very sphere of life and you may end up spending your time choosing from such varied and beautiful choices. Since there are so many alternatives for everything and anything nowadays, why should architectural designs be far behind? Whether it is the paint that arrives in a multitude of colors or creating your personal area for relaxation – why should you always use materials that other people are using? This is particularly the case for decks and patios where you no longer have to stick to just wood to extend your indoor living space outdoor.
Choices Galore!
Many homeowners nowadays are building decks and patios as an extension of their homes. Why shouldn't they? It instantly adds a touch of class and creativity to your pad and makes for an ideal option when it comes to letting your imagination and inspiration flow as it helps define your personality and magnifies your vibe.
Although wood used to be the material of choice for patios and decks, homeowners today are more willing to experiment with different materials to give their homes a unique look and feel.
Here are a few material options that are quite the rage when it comes to decks and patios.
Gravel
Gravel is cost-effective and still manages to offer the desired results. It is easy to install and is very popular among house owners who are on a tight budget. It comes in a wide variety of colors such as red, black, yellow, brown and white, and gravel is perfect for a casual patio that accommodates curves. It does require a little maintenance from time to time so that it looks presentable.
Stone
Stone oozes a pre-medieval vibe while reverberating with a timeless appeal. While pieces that are cut out into uniform shapes and structure look neat, you can still go in for asymmetrical and irregular edges to give your patio a rugged and casual look. Sandstone and limestone are perfect for dry climates. Blue stones and granites are more suited for colder weathers as they resist flaking.
Colored Squares
Charcoal, Terracotta, and soft-gray precast concrete slabs offer a checkerboard look to your patio. If you want to add a touch of spunk to your existing single color slabs, you can towel, squeegee or brush on a fine layer of concrete resurfacer to give the desired look. If you feel you need to install new slabs, purchase tinted ones from the start itself.
Composite Decking
Composite decking is a blend of plastic and wood particles. It can be embossed using a wood grain pattern. If you are planning to use this patio and deck material, consider opting for one that consists of preservatives so that it will prolong its life. It is best to note that with time and natural wear and tear, composite decking will inevitably lighten in color.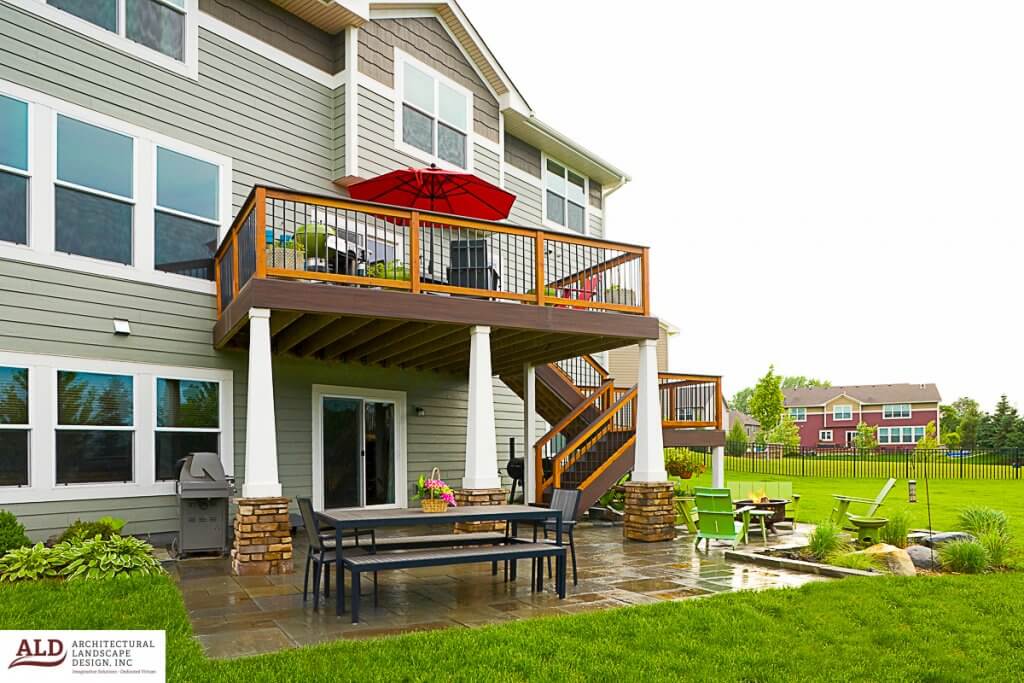 Cedar Decking
There is a reason homeowners favor decks made from cedar. The wood has a rich color, and natural beauty, durability, and versatility. It is available in a range of colors, right from tans and pinks to light browns. Cedar decking reflects a subtlety and sophistication like no other material does, and this makes it highly sought-after. You will be able to walk barefoot when the Mercury dips as cedar can transfer heat.
Concrete
Concrete patios can be divided into smooth gray, tinted, plain or textured. You can make your concrete patio look exactly like stone or brick. The best part is you can get concrete patios either assembled or poured from modular slabs that are precast. If you do not want to replace the entire patio, you can simply apply a thin concrete overlay so that it works wonders to your patio area.
Vinyl Decking
Even though vinyl decking tends to be slightly more expensive than wood, you will save money after it is installed. Maintenance costs of vinyl decking are fairly cheap. It is not the best patio or deck material if you live in a hot locale. Vinyl decking tends to get hot and also has a tendency to get stained.
Tropical Hardwoods
Tropical hardwoods are exotic and rich-grained. They are durable, resistant to insects and tough. Some examples of tropical hardwood include Red Tauari, Ipe, Cumaru, and Tigerwood. These woods are ideal for decks but require a lot of elbow grease while drilling. You will also find them a tad bit more expensive than other types of wood used for building decks and patios.
Bricks
Baked clay bricks are small, lightweight and modular. They can transform any other living space, including patios and decks. You will find it easy to clean bricks and love the overall effect they create. The most common color is red but you can always find gray and yellow colored bricks.
The Bottom Line
If patio or deck is on your mind or you are looking to renovate your outdoor living space, think beyond a simple wooden deck or patio. There are so many materials to choose from, and you will be surprised how they can add spark and appeal to your home. It is not just about elevating the aesthetic appeal of your home but creating a personal space where you can relax with family and friends.
The material you choose for your patio or deck will depend on your budget, architecture of your home and personal preference. Check out these materials and then decide which one you think will work its magic on your outdoor living space.