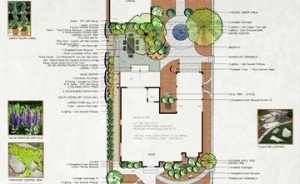 There are many different benefits that come with professional landscaping, including the return that you will get once you sell your home with the beautiful landscape rolling out from it. The non-monetary gains are just as large, however on professionally designed landscapes that are well maintained and properly installed.
Research has actually shown that these landscapes when well taken care of can provide a benefit to the environment due to the oxygen being released up into the atmosphere, reduction in erosion, and shade cover for wildlife in warmer months. It also helps with your overall well-being in many areas. When you enjoy your surroundings you're more productive, you can let the stress of the day just wash away, and a peaceful and attractive landscape environment can even help support recovery from illness. These are not the only benefits however, since the list goes on and on.
Other Benefits Include:
1. Expect to bring in a 100% to 200% return on the investment that you make to have professional landscaping done.
2. Increase the value of your property by up to 20%.
3. Block any unpleasant views from your yard.
4. Lower the noise levels around you.
5. Improve the appearance of your home.
6. Simplify the maintenance that is needed around the house.
7. Improve the environment.
8. Increase the appeal of the home during sale time.
9. Reduce any stress that you have, increase your well being and be more productive.
10. Reduce the crime level in your neighborhood.
11. Optimize the land and outdoor space that you have.
12. Facilitate personal creativity with the space that you have to work with.
13. Reduce any chemicals that are used on the property.
14. Reduce the cooling and heating costs in the home.
Find out how a professional landscape design architect like ALD can help you beautify your home, increase its value, and create a master plan to help you find more enjoyment in your own back yard.