Is your home in the center of the city?  Does it have a spot for you to relax outdoors?
Spending time outdoors soaking up that fresh air is a vital part to any healthy lifestyle.  Being outdoors makes us better human beings.  Doing this slows the aging process, relieves stress, it helps us maintain our weight, and it increases brain function as well as fighting off depression.
It can be a difficult task for those who live in large cities to find the time and the space to be outdoors, let alone make an inviting outdoor space a part of their homes.  City lots are often very small.  And, as you know some of us are great when it comes to working with power tools, while others are not so handy.
If that's you and you're short on yard area, check out the following.  We have put together a couple ideas that are based on limited space, and lack of power tool experience and skill.
Outdoor Living in a High-Rise Apartment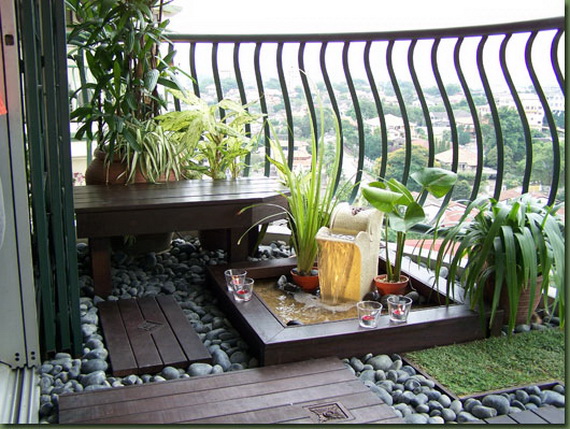 Windows mean everything when you are trying to get the outside into your city apartment.  Put together a fake bay window by placing a few makeshift benches and/ or coffee tables in a U shape.  You can stack journals, books, drawing paper, newspapers, puzzles or even magazines whatever will inspire you to sit and be still, open that window and relax.  By including a few house plants will increase the fresh air as well as increasing a sanctuary like atmosphere.
And if you're fortunate to have a balcony – no matter how tiny – you can turn it into an outdoor room with a small bench and throw pillows plus some container plants.  Adding lattice to your balcony can give you a little privacy, too.  For larger balconies, there are tabletop water fountains and fire features you can use to create a dreamy outdoor room.
Little Tiny Backyard
Anyone that has a dog or even children will tell you that having a tiny backyard is better than having no yard at all.  But, it can become frustrating when you are short on space and big on outdoor ideas.  Bench seats are a great idea for tiny yards; they can keep everyone comfortable, plus they space for other things such as bistro table.  With additions such as these you will be able to turn that tiny backyard into a great outdoor space for meditating as well as entertaining.
We've got lots of ideas for landscaping small yards on Pinterest – check out this board.  Also, if you need additional small yard ideas, read our previous post.
When you're thinking of transforming your outdoor space, contact us for a free design consultation. We can work with small yards to really make them stand out.
We are a licensed MN landscaping contractor, serving the Minneapolis metro area and outlying Minnesota and western Wisconsin communities.