Each yard presents its own unique challenges when it comes to landscape design.  Flat terrain has very little interest, and so different levels for the eye have to be created.  But on the other hand, hilly properties have their own problems, especially when it comes to outdoor maintenance.  The right landscaping plan can eliminate some of those challenges as well as enhance what nature has provided.
Steep Hills Are Not the Place for Turf Grass
Lawns on steep hills are difficult to maintain.  Grass cutting is impractical, and moving a lawn on a steep incline is downright dangerous.  Water run-off can quickly demolish your beautiful green lawn, making it a mudslide waiting to happen.  But with the right landscaping, you can take that hill and turn it to your advantage.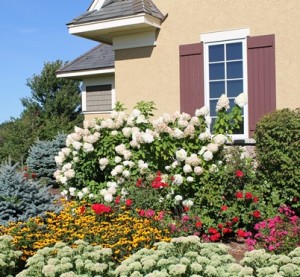 Cover Your Front Slope with Spreading Perennials
If your front yard contains the hill, consider replacing that swath of green grass with an easier-to-maintain riot of color with a variety of blooming perennials and foliage plants.  The variety of heights, colors, and textures will set your home off beautifully, and what an inviting welcome to your guests!
Because sloping terrain is generally well-drained, consult a professional landscape designer who has experience with the best plants for this area.  Native species generally do well regardless of the terrain, since their water and soil requirements are more adapted to the Minneapolis area.    Perennials that don't need dead-heading will cut down on maintenance, and they won't need to be replanted each year.
Hillsides Are Ideal Places For Waterfalls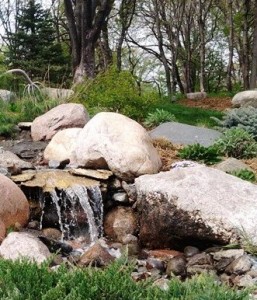 Here's your chance to use what Mother Nature gave you to create a landscape feature that's attractive, soothing, and inviting to both wildlife and humans.  If you've got a natural water source such as a stream, so much the better.  If not, a water supply can be installed to produce a totally natural-looking effect.
Natural rocks and boulders break up the water, and they also help reduce the possibility of soil erosion while providing visual interest.  We can choose native stone to make it appear that what's on your hill is just what the glacier left behind thousands of years ago.  Native grasses and wildflowers do well inter-planted among large rocks.  They add color and texture interest.
Break Up Your Hillside With Rock Garden Tiers
Just because nature gave you a steep hill doesn't mean you're limited to the angle of your slope.  A series of stone or masonry walls filled with rock garden tiers can produce flower beds on a variety of levels.  And natural stone steps can lead the way to other areas of your yard as well.   Terraces can be designed to accommodate small pergolas, arbors, trellises, and even quiet resting spots with stone benches surrounded by shrubs or small shade trees.   And paths don't have to be straight.  In fact, if your slope is extremely steep, a walkway that slowly meanders downhill, curving here and there, is safer and more visually interesting.
Focal Points on Hillsides Add Interest
Accents such as bird baths, statuary, fences, gazing balls, etc. provide lots of interest for the eye.   If you've been blessed with a steep slope in your yard, view it as a challenge to turn a boring stretch of slanting green into a feast for the eyes and a delight to wander through.  And don't forget the landscape lighting so that you can show off your natural paradise even at night.
At ALD we delight in taking landscape challenges and turning them into beautiful visions of nature.  If you've got a hard-to-handle feature in your yard, give us a call.  We'll work with you to turn that problem into a gorgeous feature.