One of the most delightful things you can add to your yard is water – in the form of a pool, a mini-waterfall, or a fountain.  The sights and sounds of water are soothing and refreshing at the same time.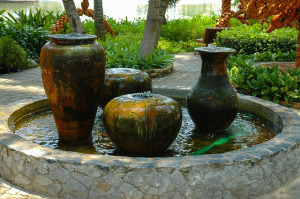 Water features are able to do so much for a backyard. They can change the way they look, sound and feel.    There are many water features that can be made to fit within a specific landscape to make them stand out much more than they currently do. In addition, these water features bring natural elements to the yard that other additions wouldn't be able to bring, including attracting more wildlife.  That's a plus if you love bird watching.
Decide on the Right Water Feature
With the wide variety of outdoor water elements to choose from, there is something perfect for each yard.  When you choose the ideal water feature for your property, you're able to transform the entire yard. There are many ways to go with something natural in the ground or even a waterfall, fountain or stand-up water feature built specifically for your yard.   Water features can even be the solution for wet areas of your property.  A soft and soggy spot can be made into a pond or a marshy wetland with the necessary plant life to sustain growth and thrive.
Enhance the Water Feature with Other Landscape Accents

Use plants and stones around the water feature to enhance the way it looks, the way it stands out. This can be done for both with in-ground and free-standing water features. Placing the right foliage around the free-standing ones can make them look more natural and blend in with the rest of the yard. Small fish in ponds can be ideal, and frogs will naturally come to the pond area you create.  Mini-waterfalls can be designed to flow through a small rock garden on a slope or tumble over large boulders accented with container plants.
Have a beautiful yard with a water feature that really stands out from the rest when you work with a professional MN landscape company that is able to walk you through the design and the installation of a water feature you'll love. Architectural Landscape Design is able to help you with just about everything that is needed and ensure that you're happy with the outcome. Speak with us today to find out more.  And in the meantime, check out our Water Feature Ideas board on Pinterest for a little inspiration.  And then let's talk!  We offer free initial design consultations.

We are a licensed MN landscape contractor serving the greater Minneapolis metro area as well as outlying Minnesota and western Wisconsin communities.