Childhood is a magical segment of life.  We all remember the sunny days that turned into nights as we chased each other around the backyard.  Do you have fond memories of those special times spent barbecuing with your family and challenging your friends or siblings to game of volleyball or croquet?  Backyards can provide hours of healthy entertainment and fresh air for the whole family.  Is your backyard family friendly?  If not, here are some ideas to help.
Backyard Landscape Design Concepts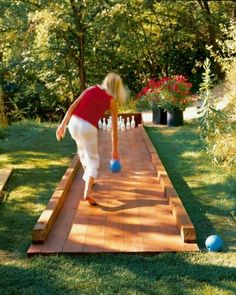 Our MN landscape design company creates unique and original designs to complement your backyard and provide the right space for those exciting backyard games. Each design can be made to fit the needs you have, while also providing an exciting getaway for your entire family.  Whether you are looking to create an action-packed yard for your children, or a more intelligence-geared gaming course for adults, we can create the perfect design plan for you.  With an innovative landscape design you can have an outdoor recreation spot that's perfect for socializing or intimate family gatherings.
A Wide Variety of Riveting Outdoor Games
Imagine being able to play chess in your very own backyard, with fresh air and sunlight all around you.   Another garden game geared toward the entire family is outdoor Scrabble.  There are large landscape chess sets, horsheshoe pits, and even bowling.  We can can help you make your outdoor game spot a reality.
Architectural Landscape Design has the knowledge to provide an innovative, spacious backyard design that allow you to add fun additions to barbeques and adult functions.  Challenge your friends to a worldly game of bocce in your very own backyard.  This strategic game entertains 2-8 players, and conveniently fits into narrow areas of your yard.  Envision soaking up the sun and enjoying the day while playing a relaxing game reminiscent of bowling.  You can even teach the little ones how to properly aim the ball, turning them into pros!  Whatever you choose to place in your backyard, with our help you can have a recreational area that's useful, inviting, and attractive.
Enjoy Family Time with the Right Landscaping

Enjoy some fresh air this summer with the friendly help of Architectural Landscape Design.  Ditch the video games and turn off your cell phones – take summer back old school style!  Venture out into the comfort of your own back yard and experience true family fun.  This is the time to create moments you and your family will never forget.
Speak with us here at Architectural Landscape Design to find out how we are able to help you design the perfect backyard fun zone for your family.  We are now offering free initial design consultations.  Why not call us today?  We are a licensed MN landscape design and installation contractor.