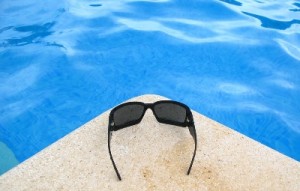 Doesn't this blue water look inviting?  Wouldn't it be nice if you could come home, slip into your swim suit, and dive right in?   Having a pool in your own yard makes for a great place to relax and ease some tensions from the day, or it can provide a fun place for an impromptu party.  Either way, one of the secrets to enjoying your pool is to keep it clean.
Yes, it takes work and regular maintenance to keep your pool in top shape, but in return you've got a place where you can dive in without having to fight the crowds and find a spot for your towel on the beach.
In yesterday's post we shared some ideas for routine pool maintenance; today we'll handle helpful tools.  If you're a new pool owner – or you've had one for some time but your regular cleaning routine just isn't working for you, we've got some tips on equipment to help get the job done right.
Pool Cleaners
Pool cleaners come in two varieties – those operated by vacuum action, or units which work on pressure.  Vacuum pool cleaners work on the same principle as a household vacuum.  The unit is placed at the pool and uses suction to collect dirt and other debris.  Since they use collection bags, you have to empty them from time to time.  A manual pool vacuum cleaner runs on electricity, so you'll need an outdoor source of power if you use one of these.  There are also automatic or robotic units which are attached to one of the pool's suction ports to periodically remove debris from the water via suction.  The advantage of these cleaners is that since they're automated, there's a lot less work for you.
A pressure cleaner consists of a number of hoses attached to a central unit.  Highly-pressurized jets of water loosen up debris, which is then removed from the water via the pool filter.  Pressure cleaners do a good job of breaking up algae for filtering out.
Pool Baskets
Long-handled skimmer baskets are great for manually retrieving floating debris.  Large items such as leaves and paper scrap can clog your filter, but you can easily skim off floating material from both the surface and under the water.  You can also attach a strainer basket to your pool's pump to remove larger debris before it hits the filter and causes a clog.  Having both can be helpful; keep a skimmer nearby to retrieve debris you notice when you're around the pool; the pump strainer will catch things when you're not.  They do need to checked and emptied periodically.
Pool Filters
A pool filter is put in place between the in and out flow water hoses to continuously clean the water of debris.  They're meant for small particles; however.  Larger pieces such as grass clippings and bugs can cause a clog; that's why you'll want both a filter and either a cleaner or basket for the big stuff.
Just as with any task, if you've got the right tools, the job can go a lot easier.  Now after reading this post if you're dreaming of a pool in your own yard, give us a call.  We install pools, spas, and other landscape water features. 
http://www.ehow.com/list_6577270_pool-cleaning-devices/