Even though it is still too cold to cook some food up outside, it might be time to start saving and thinking about adding that outdoor kitchen that you've always wanted to have. Here in the Minneapolis MN area, barbecue season is just around the corner, so being prepared and knowing what you can do to make the most out of your backyard living space can make all the difference for when the hotter months creep up on us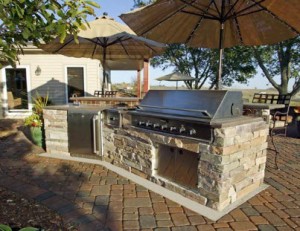 Not only will you be able to use the outdoor kitchen for a good portion of the year as well as entertaining the days and nights away in your own back yard but you are also increasing the value of your home when you decide to do this. This means you can recover some of the costs that you spend to get the kitchen in the first place.
Tips for Your Dream Outdoor Kitchen
Consider spending a good chunk of your budget on the grill, since this is the one thing that you will use the most out in the back and you want it to work well.
Try to go for at least 12″ on either side of the grill with a counter or other surface to ensure that there is enough room for the food to get prepared and put together without having to find additional space somewhere outdoors.
Having a larger, more open area is always a good thing when it comes to an outdoor kitchen; we recommend that you make it as spacious as it can possibly be.  You'll have room to move around as well as lots of space for others to join you.
Add a nice little covering over the kitchen area to protect you from sunlight or rain. It doesn't have to cover the whole area, but having a nice sitting area under a shelter is a good thing. Pergolas and other roofed structures are great, but a market umbrella is an economical solution.  You also want to hang some lights or have some sort of lighting for the outdoor kitchen area to let you use it in the evenings.
Adding any type of plumbing to the outdoor area can be costly, so think about adding a nice sink without the faucet.  You'll have to bring water from indoors, but it can save you money.
Add some small cupboards throughout the outdoor area for you to use for those  items that you'd like to keep tucked away. Propane tanks might be an eyesore, so keeping them inside cupboards could be the answer.  Cupboards also mean you've got a space to keep all the necessities close at hand.
Add a nice hearth or fireplace to the area to keep everyone warm and cozy on cool nights or to just roast marshmallows and share stories. This can be a good get-together spot.  It also gives you more cooking options.
Speak with us at Architectural Landscape Design to see what we can do about helping you with your MN outdoor kitchen idea. You may be surprised – the backyard of your dreams could be more affordable than you think. Give us a call at 952-292-7717.