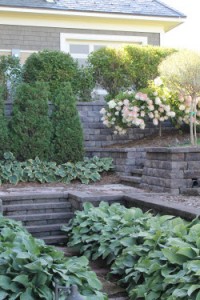 You want to add a little personalization and uniqueness to your yard when it comes to adding a garden to your Minneapolis home.  But you shouldn't have to worry about not being able to get something out of the cost of improving your yard when the time comes to sell it. This is why choosing to add a little more to the landscaping can up the value, while also making the home stand out from all the rest on the block. As the winter moves in, this is the perfect time to spend thinking about the landscaping you'd like to have done in your front and back yard during the spring.
Tips on Enhancing the Garden
Add a little bit more nature to the garden using human-sized stone statues. You want to make it a bit more personable as well, so make sure it is of something that says something about you and your home.
Create semi-open areas throughout the garden where you're able to get away if you want, or sit in the bright sunlight out in the open. With the right landscape design, you're also able to share these spots with friends and family while enjoying the beauty around you.
Use artificial lighting in a water feature somewhere around the yard. This creates a unique piece that is going to be talked about a lot.
Oriental landscape lighting is becoming very popular.  When it comes to using Japanese lanterns, opt for the ones made of stone for the garden. This gives a nice contrast compared to the smooth beauty that they are around.
Add a small pond that can flow throughout the back and front yards that you can follow. This provides a way for you to connect not only the front to the back, but the other way around and gives a nice walk way. You can then add small extras for wildlife and your pets to enjoy as well.
Add plants and trees with flowers that give off a fragrance. This is a perfect way to add a little aroma into the air while outside.
Create a multi-level garden to give your backyard a bit more personality. This also distinguishes the various areas from one another.
Does increasing the enjoyment you find in your yard while upping your home's value appeal to you?  Get a hold of Architectural Landscape Design today.  We can design a plan for your yard that will have all of these – and much more – put into the landscape of your home with fire, water, and other features once the spring hits. Start planning now and have it done to enjoy throughout the summer months when you entertain your family and friends.