With the first day of summer just days away, here in the Twin Cities it's time to move life outdoors.  Whether you're looking for a peaceful spot for your first cup of morning java, a quiet nook to enjoy that best-seller you've been waiting to dive into, or throwing an impromptu fiesta for your best friends, the right spots for all these occasions and more can be found in outdoor living spaces in your own yard.  Patios, decks, pergolas, gazebos, terraces, arbors, fire pits, and outdoor kitchens are becoming more popular as Minnesotans are joining in on the trend to keep relaxation close to home.  There's even a new term – 'staycation.'  Staycations allow you to take time off without going anywhere.  And in the summer in Minneapolis, your back yard could be just the spot.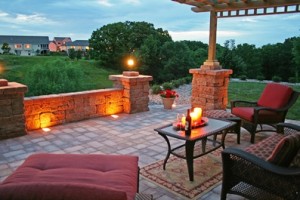 So if you're planning on enjoying more living outdoors and you've already got some good gathering spots, here are some ideas to boost those areas and give them the touches they need to go from practical to attention-getting.
Add color, color, color – over, around, and underfoot.  Colorful touches can take the form of brilliant blooming plants, but you can step it up by adding things such as colorful indoor-outdoor rugs, bright-colored cushions and throw pillows, colorful ceramic planters, etc.  Small accent pieces allow for an easy change of decor as your tastes (or the seasons) change.  Covered decks, porches, and gazebos look great with colored floors as well.   The same goes for furniture as well – wicker doesn't have to be natural or glossy white; perhaps this is the season to go for cobalt blue!    When planning outdoor color, keep this good balance in mind:  60% neutral, 30% dominant color, 10% accent colors.
Comfortable is more inviting.  You and your guests will stay a little longer when the seating is comfortable.  Plump cushions and even floor pillows can accommodate lounging.  Consider keeping quilts and throws on hand to ward off evening chills.
Be flexible in your furniture arrangement.  Having a number of pieces that you can easily move from one spot to another means you can shift into party mode easily when unexpected guests show up.  A variety of chairs and small tables can be grouped together as needed for large gatherings, or separated into individual conversation areas.  An elevated bar next to your grill provides a good buffet spot, a beverage station, or a spot for guests to chat with the cook while supper is on the coals.  Consider cushion-topped trunks or storage benches – convenient seating as well as a place to stash those extras.
 Add water features.  The look and sound of water can be both invigorating and relaxing.  Water elements such as bubbling or recirculating fountains, small waterfalls, and even our custom stone furniture with water elements can add a special touch.  A small pool with garden sculptures and the right plantings can make even the barest yard seem elegant.
Keep the fire burning.  There's something about a fire burning that draws people in.  A fire pit or fireplace can give you a spot to warm your guests in the cool evenings, toast marshmallows, or just enjoy conversation in the cracking, glowing light.   Candles add the romantic, fiery touch as well.
Accessorize.  Extra accents such as those you'd use inside your home can find a place in your outdoor rooms as well.  Weather-resistant knickknacks, lighting, and even mirrors add depth and textural interest.
Have you got it made in the shade?   We look forward to enjoying the sunshine in the summer, but make sure your outdoor spaces provide shady spots as well.  If your landscaping doesn't include shade trees, a vine-covered pergola or arbor can help.  Even draping billowy gauze can provide relief from the sun's heat.
Now if all of this has made you ready to move outdoors but you don't have a spot in your yard to relax in, give us a call – we specialize in helping homeowners design unique outdoor rooms.