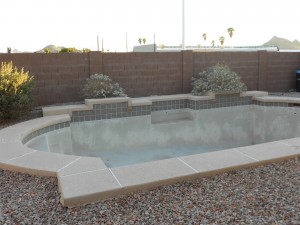 In-ground pools provide additional recreational and entertaining options in your MN backyard, but they need special care to prepare them for the upcoming cold weather.  If yours is heated, you may be able to use it for a bit longer, but soon it will be time to close it up for winter.
The purpose for winterizing your swimming pool is to protect it from any damage that might happen when weather becomes colder and when water may freeze. You also are able to keep it clean for the upcoming swimming season. By closing the pool properly, you're saving yourself from paying a lot of money in damages while saving time for the swimming season.
Tips for Winterizing the Pool in Your Minneapolis Yard
Balance your water chemistry in order to protect the surface of the pool from etching and staining. You can use a winterizing chemical kit to winterize your pool but make sure to follow the manufacturer's instructions.
Do not use a floater in the middle of the pool that contains an oxidizer such as bromine or chlorine since the floater could stick against the wall and might bleach or stain the side.
When water is frozen, it expands. This can cause damage to the pool and filter system. Which is why you should lower the water level below the mouth of the skimmer. This removes water from the throat of the skimmer so when it freezes, it doesn't become damaged.  There are devices that can be purchased which collapse if water gets into the skimmer.
Use a shop vac to blow out the water from the plumbing lines. Blow out the filter system next. Plugs should be placed into the ends of the lines. Make sure that they are fully sealed so the water does not back up into the lines.
Place a cover over the pool to keep out debris.
Drain water out of the filter equipment. Open the plug at the bottom to drain the water out and open the air relief valve at the same time. Move the multi-port valve to the 'winterize position' and take out the pressure gauge. Remove any plugs and chemicals that are left in the filter. Now do the same for any other filters, heaters, and cleaners in the pool.
Keep the plugs out of everything and put them in one spot to remember where they are for the upcoming pool season.
If you need help with your pool or want to go make some changes to the landscaping around your pool before the cold Minneapolis winter hits, give us a call at Architectural Landscape Design. We are able to walk you through the process of landscape planning and get you ready for next season.  As a pool installation contractor for the Minneapolis area, we've got the experience you need.