Have you got a favorite escape spot?
When life has you too busy, you might want a vacation but do not have the time, money or ambition to actually take off somewhere. This is what a lot of people these days are having a hard time doing. Whatever the reason you're longing for a getaway, you do not have to leave your home to have the vacation that you want and deserve. You can make your yard the vacation destination that you have always wanted.   Many homeowners around the Minneapolis area are asking us to come up with a landscaping design that can do just that for their back yards.  We've got lots of ideas and options to do that, but if you're not ready for a major outdoor makeover, here are a few things you can do to make your yard more relaxing.
Add Simple Touches to Give Your Yard a Resort Feel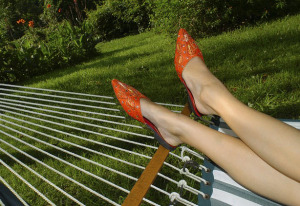 Hang a hammock in your yard. This not only gives the exotic feeling that you would get from a vacation area, but it is also comfortable to use when the sun is out and you want to take a relaxing nap. They are affordable and easy to hang between two trees.  No trees?  Free-standing units are available.  They are more versatile as well, because you can move them around to take advantage of the sunshine or find a shady spot.
Add a fire element.  Build a fire pit and have a campfire right in your backyard. You can bring some beer or wine out and sit by the fire when the stars are out. This is a great time to have friends over and talk with them. It can be done using some stone work, bricks or other materials.  Of if you're not the DIY type, we've got some beautiful free-standing fire pits.
Cook outside on a grill. If you were thinking about playing up your deck a bit, then think about adding an outdoor living space. A nice kitchenette in the backyard with a grill, sink and even mini fridge might be just the vacation you need. Grab some chicken and steaks and throw them on a grill for an outdoor picnic.
Nothing soothes like the sound of water.  Water features such as recirculating fountains or mini-waterfalls can be added in the yard. The look of them is beautiful but the sound is heaven. You can sit on the hammock sipping your wine in the sun and enjoy the sounds that are coming from this water feature.  The gentle sound and sight of water can provide you with the serenity you're in need of.
Spruce up the backyard furniture. If you have outdated pieces, then perhaps it is time to do a bit of shopping. You can find inexpensive pieces throughout many different stores. Of course, you're also able to go bigger and have specially made furniture just for your yard. Placing them around your new fire pit and having a table to gather around can increase the fun in the sun.
There are lots of other things you can do as well – low-voltage lighting to set the mood, a pergola with hanging baskets to cast some shade, colorful outdoor cushions, a mini-bar, or perhaps this is the year to splurge on having a spa installed!  If you're ready to transform your yard into a vacation destination, give us a call. We are your outdoor MN patio design company that is able to help you come up with a plan for the backyard getaway of your dreams.   We are a licensed MN landscape design and installation company, and we specialize in turning landscaping dreams into reality.