Going out for the weekend might be a long shot if you do not have the funds, the time or the ambition to actually get away. This is a common theme that many people sing to, but with the right landscaping it won't be something that you have to worry about. You can make the resort come to you when you change the way your backyard looks and feels. Get the relaxation you need without the long flights, the jet lag or the crowds of people you don't know.  Here are just a few ideas to get you started.
Add a Pool House to Your Yard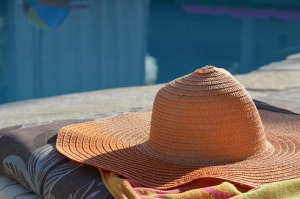 Adding just a small secluded and covered area to your backyard can be the perfect escape get away. Not only can it hold whatever it is you need outdoors – a bedroom, a dining area, a play room – it can be comfortable and inviting. You can add curtains to the doorway and hang baskets of flowers around the outside. For an enclosed spot, a gazebo might be perfect, but if all you want is some shade and a defined area, a pergola with lattice around one or more sides might be enough. Think tropical cabana feel.  Beach houses work even if you don't have a pool!
Surround Your Pool with a Beach Strip
Adding a small area that reminds you of the beach is ideal. You can lay down clean sand to play in, along with hammocks and other things that remind you of the fun in the sun. Do not spare a second worrying about not making it to the beach. If you want to take it a bit further, you can lay sand down in the entry of the pool.  Beach-entry pools are becoming very popular.
Stone Swimming Pools Create a Natural Feel

With a stone swimming pool, you're able to provide the natural look and feel that you would might get from a resort. You can add whatever stones you want around the water, as well as shrubs and low-voltage landscape lighting. Placing a waterfall in the pool can also create an exotic escape feeling.  An attached spa is also an option.
When you're ready to make your backyard into the personal resort you've always wanted to visit, speak with us here at Architectural Landscape Design. We are a licensed Minneapolis landscape design and installation company that is able to help you plan the vacation destination you want, without ever having to leave your yard.  We are also a licensed MN pool contractor.