The coming of winter here in the Minneapolis area usually signals the ending of outdoor entertainment and relaxation.  When the weather becomes colder, you do not want to spend too much time outdoors in your yard.  Many people tend to stay within their homes, on the couch, under a blanket and as far away from the snow as possible. We do not blame you.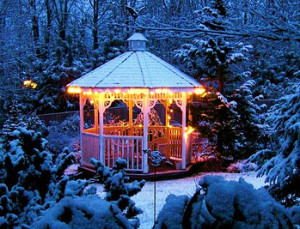 But what if you had an outdoor space that could be used throughout the entire year, and not just in the spring and summer?  You would be better able to utilize the space in your yard and enjoy the outdoors all year round.  By adding a fire feature to your outdoor room,you can.
Imagine being able to spend the chilly days gathered around an outdoor fire pit or fireplace. The late fall or early winter is an ideal time to do this, since the summer months may be too warm to enjoy an outdoor fire.  Or you may be too tired from swimming all day to enjoy any other outdoor activities.  But having an outdoor room to gather around a fire in the colder months can give you lots of entertaining and relaxing options for fall and winter. You just need a good plan.
While it's probably too late to do much other than adding a free-standing fire pit to your deck or patio, it's a great time to start making plans for next year.  When designing the perfect outdoor getaway, why not speak with us and find out how can add that outdoor fire element mixed in with a beautiful pergola or gazebo and the right touch of furniture.  Then you can gather the entire family and your friends around it when the weather becomes chilly.  And we work with your ideas –  you can choose how you would like it to look.  Then we can suggest elements that will make your outdoor room and your entire yard come alive.
Use the fire pit to warm up while the pergola or gazebo offers you some protection from the wind. Sit on furniture designed for comfort and coziness; then grab a cup of hot cocoa or coffee, a nice blanket and enjoy the clear night that is before you.  We can even suggest some low-voltage outdoor lighting to further light up the space and make it even more inviting.
When you're ready to get started on the planning process for your winter outdoor spot, give us a call here at Architectural Landscape Design. We are able to help you make that design become a reality. We have some of the best fire pits, pergolas and natural stone outdoor furniture to make your yard really stand out. We are a licensed Minneapolis landscaping contractor serving the entire Twin Cities metro area and surrounding communities, including western Wisconsin.