Is your front walkway inviting?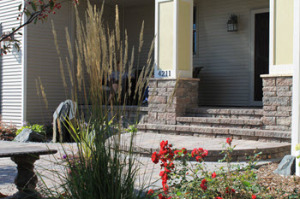 When guests come to your home, you want them to feel welcome and comfortable. This starts before they enter the house. The pathway to your door is where this begins.
The feel and energy from your home can be brought out by increasing your landscaping to include your pathways. There are a number of ways you can accomplish this – ways that are simple, or you can create a masterpiece with a variety of plants.
Add Color with Flowers
When it's lined with flowers, the pathway in front of your house that leads to your door is an inviting and colorful way to guide your guests to your house. Use several colors from the same type of plant to make an even look.  And for harmony, use colors complementing your home's color. Be sure to keep these flowers groomed well, so your pathway remains inviting.
Line Your Sidewalk with Hedges
Using just a simple line of low hedges along the side of your pathway creates a European style look. This way is a warm and distinguished look that is simple to keep maintained, especially if the surrounding areas are mulched.
Your main concern with hedges is keeping them at a height that is even. Guests will have a clear direction going to your door.
An Inviting Pathway Lined with Trees
Some people like having privacy on their path to the door. Lining your pathway with trees gives your entryway a mysterious look. The vibe created with these trees is tunnel-like. This type of pathway landscaping is low in maintenance – the only thing to do is an annual trimming.
With trees lining your path, you will not have to replant flowers or foliage plants every year.
Use Several Different Heights of Plants for Visual Appeal

To have the most space for planting and expanding your garden beds, start your landscaping at your sidewalk entrance. By mixing a variety of plants of different heights and flowers, your guests will be intrigued as soon as they enter your pathway.
Use some flowers right up to the edge of the pathway, add foliage that is taller behind them for a backdrop. This creates some contrast.
By incorporating your pathway with landscaping plants, you'll give your guests a warm, inviting look.
For all your pathway landscaping needs, contact Architectural Landscape Design.  We currently offer a free initial in-home design consultation.  Let us help you welcome your visitors graciously with beautiful front yard landscaping!  Visit our Pinterest site for some inspiration.