If you're like most of us, you look forward to a little relaxation one in awhile.  After a rough day of work, drifting away to a stress-free location always sounds like a wonderful idea, especially if that location is right in your own backyard. Creating a zen-like retreat on your own landscaping doesn't have to be a difficult endeavor.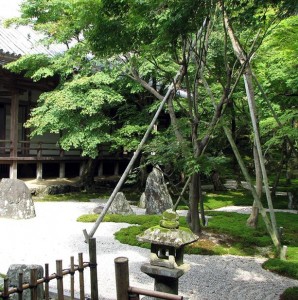 If you're seeking to convert your backyard into a sanctuary, a good place to start is with the principles of the ancient Chinese art of landscape design known as Feng Shui. The idea behind this approach is to place landscape features in such a way as to maintain the free flow of energy, known as qi. If successfully structured, a Feng Shui design incorporates varying elements of nature — wood, fire, earth, metal and water — in complete, harmonious balance.
Placing all of these elements in your garden should not be a difficult task. Wood can usually be found in a yard – a deck, wooden fence, pergola, wood furniture, etc.   Even ornamental driftwood or carved wood works.  Adding metal could be as simple as including a wind chime. A fountain or birdbath would take care of water.  And fire could be implemented with a chain of lights, torches, or a metal lantern if you don't want to go as far as adding an outdoor fireplace or a fire pit.  We've even got a unique piece of outdoor furniture that incorporates both fire and water – our stone Fire & Water table.
Here are a few more aspects to bear in mind when seeking to create a backyard sanctuary:
Use curved lines
Keep proportion in mind
Incorporate plants to soften edges
Curved lines have a tendency to be more calming than straight lines. This should be kept in mind when designing a walkway.  A curving path is more harmonious than straight or angled walks. It should also be noted that plants are a good way to soften harsh edges around walkways and other hardscapes. Boulders as well as ceramic pots have also been known to do an effective job of drawing the eye away from a very rigid path.
Proportion is very important.  The absence of proper proportion can be a bit jarring for the eye. An example of this would be a huge tiered fountain in a tiny front yard. Perhaps a better idea for such a small space would be little birdbath.
Here at Architectural Landscape Design, we aim to turn our clients' landscape dreams into reality, creating unique and beautiful outdoor living areas.   If a private getaway spot in your own back yard sounds appealing, call us today at 952-292-7717 to arrange for a free design consultation.  We are a licensed Minneapolis MN area landscape design and installation contractor providing a variety of services such as garden design, hardscaping, and custom natural stone furniture.