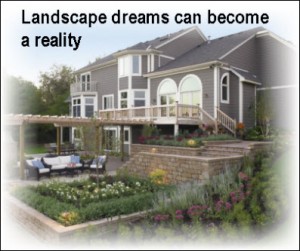 Have you been gazing at lush landscape designs this winter, dreaming of what your yard could look like?  Every landscape idea is not suited for every property. In order for a landscape design to work, the yard (as well as the house) has to be  gone over and assessed to match it with appropriate plan. Each property has its challenges, but it doesn't matter what the problem of the yard is – too small, too much of a slope, difficult grades, wet spots, and so on – you're able to get the most out of the yard space that you have with a perfectly designed landscape plan. And now is the perfect time to start planning for the spring time.
Landscape Design Ideas for Irregular Yards

Garden wall design – You can use a garden wall for many different things in your yard such as beauty, privacy or protection. Depending on the shape of your yard, you can create a unique shaped wall.  It can be a great addition to any back or front yard.
Retaining walls – This is a practical yet beautiful type of wall often used in gardens to offset slopes and improve the curb appeal of the home. A lot of accuracy and special attention is given to these walls to create a design that suits the home and landscape space.  Most retaining walls require a professional landscape designer to plan so that they'll stay in place and any drainage issues have been addressed before the wall is put in.
Terraced grades and slopes – Retaining walls work great for landscapes that are on a hill, but landscapes that have steep grades and slopes can still become a part of the outdoor space beautifully.   Tiered retaining walls can produce terraces and multi-level outdoor rooms.  Drainage systems that are properly installed are recommended, and you can add a functional deck and rock gardens with natural ground covers to accent the various levels.  You can create harmony between the outdoor and indoor living spaces when you use terraces. By using the right colors, you can have the outside and insidetof your home flow together. Terraces can also become more functional with covered railings, pergolas, furniture and other custom touches.
Smaller yards – You do not have to limit the ideas that you come up with when you have a smaller space to work with.  We've got lots of experience helping homeowners with smaller lots turn their properties into mini-resorts and backyard retreats.  Some ideas we use:
Add plants that grow up instead of out
Use textures that give the feeling of openness
Choose colors that make the yard appear larger
Slender fencing can provide an open feel
Plant small trees instead of smaller ones
Working with Architectural Landscape Design can provide you with a new way to view your landscape, no matter what kind of terrain you've got.   We have been in the MN landscape design business for many years, and we can create a space outside that you will love and will also make your property look beautiful. Call us today at 952-292-7717.