After a number of years in the landscape design and maintenance field, if we've learned one important thing, it's that no two pieces of property are identical.  Each yard has its own quirks and "special features" to be dealt with.  Some lots provide unique opportunities for showcasing a particularly impressive tree, shrub, or flower bed; others are filled with challenging areas to appropriately and practically landscape.   But often the solution for both of these situations is ground cover.
Ground cover plants grow close to the ground and spread out to fill in bare soil.  Most are lush and compact, but there are other varieties such as daylilies and phlox than can exceed a foot in height.  Some, but not all, are flowering.  There are varieties that thrive in full sun, while others prefer shade.  Whatever your soil condition, sunlight, and moisture, there are ground cover plants that will work very well.  Here are some areas where ground cover plants can solve problems: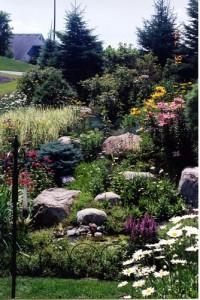 Steep hillsides.  By covering a steep slope with ground cover  you're eliminating the need to mow an area that could be difficult to maneuver.  Ground cover will also help to hold water in, reducing possiblesoil  erosion.  Choosing low-growing, grass-like plants can give the illusion of a lawn without the upkeep.
Eliminating weeds around pavers and walking paths.  Many ground cover plants are sturdy and hold up quite well to foot traffic, which makes them excellent candidates for filling in the spaces between and around pavers, patio stones, and walkway hardscaping.  By planting these instead of grass right up next to the pavers you're reducing the need to weed and you don't need to run the mower up next to the path.
Maintenance-free gardening.  If you love the look and fragrant aroma of flowers but don't have a lot of time to spend tending a flower garden, flowering ground cover could be the answer.  Unlike most flowering plants, groundcover doesn't require dead-heading.   And once the plants are established and spreading, they don't need to be weeded, fertilized, and watered.  Go one step further and convert your entire lawn to ground cover which resembles grass and you can sell that old mower.
Conserve water.  Ground cover interplanted with larger plants in a flower bed can not only make your garden upkeep easier by keeping the weeds out, since ground cover helps retain soil moisture, you'll need to water your flowers less, if at all.  Be sure to choose specimens with minimal spread to avoid having your larger flowering plants choked out. 
Protect your trees.  The area around the base of a tree is the perfect spot for shade-loving ground cover.  Not only will these plants keep the soil around the tree moist but will provide a buffer between your lawn and the tree trunk.  If you've ever run your mower blade or weed-wacker into a tree you'll appreciate this benefit.  Ground cover around the base of a tree also provides a finished look.
Filling in damp areas.  There are ground cover specimens that do just fine in soggy areas; they'll provide texture where most other plants wouldn't grow.
Camoflauge agents.  Ground cover plants work well to conceal such things as the base of structures, fence posts, etc.  They also can hide irregular yard features.  Plants such as virginia creeper and ivies will even spread to cover rocks, fences, etc.
Adding interest to flat areas.  If your lawn is extremely flat, consider adding a mix of ground covers in varying heights and growing habits.  Some varieties form compact, rounded mounds while others produce feathery, waving plumes.
There are so many varieties of growing things available, that no matter what unique challenge you face in your yard, there is probably a ground cover which can turn that spot into a lovely feature.