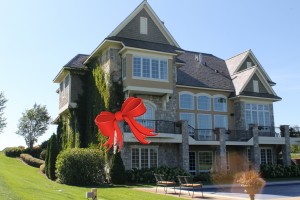 If you're like most Minneapolis residents, you need to find a gift for everyone on your list this holiday season.  But what about you and your family?  Perhaps it's time to treat yourself and perhaps your home a little nicer this year.
The right landscape design can be one of the best gifts you can give yourself.  Your home will be a delight to look at and to come home to, and both you and your guests can enjoy it all year.
What's the best design for your home?  One that will display it in the best way possible, accenting your property and bringing out its best features.  Here are some things that can make your landscape stand out from all the rest. Combine the right elements throughout the yard, and you'll have a gift that will keep on giving.
The Basic Landscape Design Elements
Harmony – The components throughout the yard should go together nicely as one. They have to have style and consistency and work together to create a harmonious combo. This can include the elements, bends, lines and colors throughout the entire landscape design. One way to get this throughout the landscape is by using mass planting throughout the yard. Add beauty and harmony with some beautiful bushes or shrubs.
Focal Points – There has to be a focal point in just about any landscape design out there. This provides definition throughout the yard and it can be just about anything. Some of the most used items for focal points are water features, flower bed or larger sized statue.
The Proportion – The size of the landscape and the different components within it makes up the proportion. You do not want some of the smaller elements of the yard to get lost throughout the bigger elements. Everything in the landscape should be a reasonable size and not dominate one another while in the garden.
Balance – Symmetry and balance should be throughout the entire landscape. There should not be more of one thing on one side compared to the other. Everything should be placed neatly and balanced throughout the yard. The landscape should have a balance of all the elements such as lines, colors, textures, forms and shapes. Everything should tune in with one another.
Simplicity – You want just the right amount of design and extras throughout the landscape. You do not want to over do anything. It should stand out in a beautiful way. Over cluttering the yard could be a problem because it can be over powering.
Now is the time to make plans to go through the changes throughout your landscape. Have the plan and be prepared for when the weather warms up – let the winter fuel your dreams and goals and then give Architectural Landscape Design a call.  Let our Minneapolis landscape design company make your dreams a reality by using all of these elements into one beautiful looking landscape design.