Despite the threat of snow and cooler temps, spring is upon us all now in the Minneapolis area, and now is a great time to check out all that's available to turn your yard into a place you can really make use of and enjoy showing off.  With your input and ideas as well as our professional and artistic landscape design expertise, we can get the outdoor design you're after.
There are a number of elements you can add to your yard that will make you the envy of all in the neighborhood.  With some inspiration from Outdoor GreatRoom Company, you can choose beautiful items you'll love to have in your backyard. Architectural Landscape Design loves the products from Outdoor GreatRoom Company, and we are proud to incorporate many of their items in our landscape designs.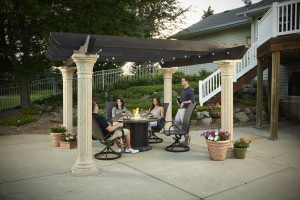 Now that it's spring, it's time for spring cleaning indoors and out.   By maintaining your outdoor space for the upcoming spring, it ensures that you can have guests over on the first warm weekend that comes around. Clean it up, spruce it up and get it ready to go. Click here for some tips from Outdoor GreatRoom Company to get your yard ready.
What Maintenance Tips You'll Learn:
Gas fire pit maintenance
Maintenance for all of your outdoor furniture
Maintaining your outdoor kitchen items and space
Maintenance of your pergola and other deck area
If you want to keep your outdoor area in the best shape, or even need help redesigning and planning the perfect outdoor place,  then speak with us here at ALD. We are a licensed landscape design company for Minneapolis and St. Paul areas. We provide numerous products, tips and landscape design and installation to make the most of your outdoor space – big or small.